Study Carrels
The primary function of study carrels is to provide students, faculty, and professional staff with space in the library for their study and research.
Semester Carrels
Semester carrels are located on the 2nd and 3rd floors. They are assigned at the beginning of each semester on a first-come-first-served basis. Special arrangements can be made by individuals with special needs.
Day Carrels
Day carrels are located on the 2nd and 3rd floors of the library. Keys checked out from the 2nd Floor Service Desk are due at closing. Keys should not be taken from the library.
Semester Carrel Registration
Study carrel registration for Spring 2020 begins at 8:00 am on Monday, January 27. Please read the information on this page before you apply.
You will not be able to apply on behalf of anyone but yourself.
We will process applications in the order we receive them. Be aware that sometimes registration from phones doesn't go through right away due to poor reception.
Loan Period
Semester Carrels are assigned for one semester. The carrel assignee retains the key for the whole semester.
Carrel keys should be returned to the 2nd Floor Service Desk before 4:00 pm on the last day of this semester. An overdue fine of $.25 per day will be charged for a key returned late. If the key is not returned or lost key paid for by the due date, you will be fined and ineligible for a carrel in the following semester.
The library does not have duplicate keys. If a key is lost, the assignee will not have access to his/her carrel until the key is replaced. A non-refundable fee of $25.00 will be charged for key replacement.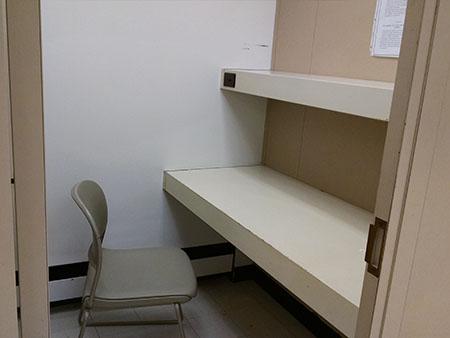 Policies
Non-compliance may result in the loss of study carrel privileges.
Only signed out materials may be left in carrels. Although the library will make every effort to respect your privacy, carrels are checked occasionally for missing library materials or routine maintenance.
You are responsible for removing food and trash from your carrel. Trash containers are located nearby.
Library furnishings such as step stools, extra chairs, or wastebaskets should not be taken into carrels.
The Library is not responsible for personal belongings left in the carrels.
Apply for a semester study carrel
Note: The application form will not work until 8:00 am on the first day of classes.