Services for Emeriti, Alumni, & Visitors
Your Research at Penfield Library
Research Help
Librarians will be happy to help you with research questions via any of our Ask a Librarian services. However, our priorities are to current SUNY Oswego students, faculty, and staff.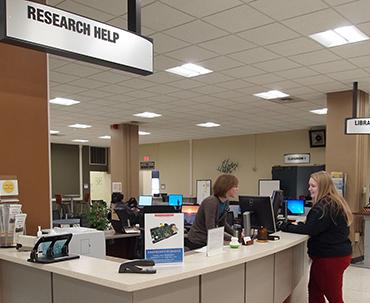 Accessing Library Resources
Databases & Electronic Resources
Penfield Library databases

On Campus
Access to online library databases and resources is available on site in Penfield Library using the library's computers.
Off Campus
Remote access to databases is limited to current students, faculty, and staff, due to vendor license restrictions.

NY State database access
Residents of states other than New York should check with your public library to see what database access they provide.
Emeriti faculty with a continuing SUNY Oswego affiliation as a current researcher may be able to access select online databases remotely. We reserve the right to restrict access to resources such as those with limited simultaneous accounts, purchase on demand resources, etc. Requests should be made in writing to the Library Director.
If you have a question about access to Penfield Library resources, please contact the Library Director at librarydirector@oswego.edu.
Computers, Printing, Etc.
Computers
Librarians can log you on to our desktop computers with a guest account.
Wireless
We are not able to give visitors access to the campus wireless network.

Campus visitors sponsored by a department should ask that department to request guest wireless access for you.
If you come from an institution that participates in eduroam, you may connect to the eduroam wireless network here.
Printing
The first ten pages are free to print. After that, the cost is $1.00 per 1-10 pages. Examples:

4 pages = free
18 pages = $1.00
21 pages = $2.00




You can pay for your printouts here:

Pick up your printouts at the Check-Out & Reserves Desk.

Scanning
Scanning stations are available in the 1st floor lobby if you need to make digital or physical copies.