Rare & Special Books
Overview
With over 2,000 books, Special Collections keeps certain editions separate from the Circulating Collection due to significant factors such as age, authorship, condition, provenance, and signatures.
Here are a few highlights of what we have to offer:
Oldest Books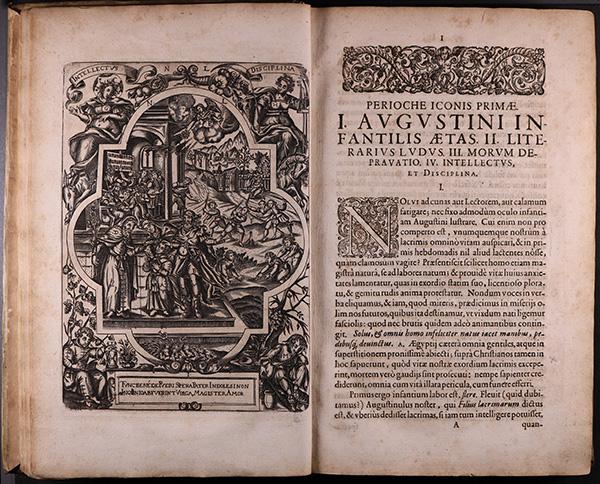 Faletti, G. (1558). Orationes XII. Hieronymi Faleti. Venetiis: Aldvs.
Mair, W. (1631). Vita Avrelii Avgvstini Ecclesiae Doctoris. Ingolstadij: Eder.
Caesar, C. J., Scaliger, J. J., & Water, Willem van de (I, Utrecht). (1661). C. Ivlii Cæsaris quæ extant. Traiecti ad Rhenum: apud Guilielmum vande Water.
Lucretius, C. T., Lefebvre, T., & Giffen, H. (1675). Titi Lucretii Cari De rerum natura libri sex. Cantabrigiae: Ex officinâ Joann. Hayes.
Ides, E. Y. (1706). Three years travels from Moscow over-land to China: Thro' Great Ustiga, Siriania, Permia, Sibiria, Daour, Great Tartary, &c. to Peking... London: Printed for W. Freeman, J. Walthoe, T. Newborough, J. Nicholson, and R. Parker.
Castelnau, M. (1724). Memoirs of the reigns of Francis II and Charles IX of France: Containing a particular account of the three first civil wars raised and carried on by the Hugonots in that kingdom. London: publisher not identified.
Signed Books
Alcott, L. M. (1905). Eight cousins, or, The aunt-hill. Boston: Little.
Chaucer, G., King, R., & Fisher, R. (1978). The prologue to The Canterbury tales: with original screen images designed by Ronald King (2nd ed.). Surry, England: Circle Press Publications.
Hardy, T., & Leighton, C. (1929). The return of the native. New York and London, Harper.
Hughes, L. (1940). The big sea: An autobiography. New York: Knopf.

Lee, H. (1960). To kill a mockingbird. Lippincott.
Mackintosh, J. (1878). The miscellaneous works of the Right Honourable Sir James Mackintosh. New York: D. Appleton and Company.
Nixon, R. M. (1982). Leaders. New York, N.Y: Warner.
Roker, Al. (2016). The Storm of the Century. William Morrow & Co.
Sandburg, C. (1942). Storm over the land, a profile of the Civil War. New York: Harcourt, Brace and Co.