Local History
Overview
Special Collections' local history collection includes material that focuses on the historical, political and cultural heritage of Oswego County or the surrounding Central New York region. This collection also includes items of genealogical significance, such as city directories and histories of local villages, towns and cities in Oswego County.
General Resources
Historical Local Newspapers
Note: Newspaper resources marked with a * are indexes only, and do not contain electronic full text. Full text can be obtained by visiting Special Collections or in some cases by contacting Special Collections with your request.
Local History Research Guide
This research guide lists books and a few other resources that are related to local history.
Specific Topics
College Archives
Special Collections has many resources relating to the history of SUNY Oswego, including yearbooks, information about buildings' names, and much more.
Dr. Mary Edwards Walker, 1832 - 1919
Dr. Mary Edwards Walker was the first woman ever to be awarded a Congressional Medal of Honor for Meritorious Service. She lived much of her life in Oswego.
Safe Haven
In August of 1944, 982 refugees from war-torn Europe were placed in an internment camp at Fort Ontario to await the outcome of the Second World War. The majority of these refugees were Jewish and had recently been liberated from the persecutions of Nazism in central Europe. The Emergency Refugee Shelter at Fort Ontario was established by a directive from President Franklin Roosevelt.
Lake Ontario @ Oswego Slideshow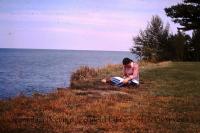 View slideshow
Genealogy
The Special Collections Department of Penfield Library is not a genealogical library, however we do offer some genealogical resources.
Rare Books & Manuscripts
Special Collections' manuscript collection contains records, documents, correspondences, business papers, etc. of individuals, organizations, or of a specialized topic.