College Archives
Overview
The College Archives was established to preserve, maintain and foster an appreciation of the history and enduring value of SUNY Oswego. The Archives is comprised of historical records and documents of administrators, Departments, faculty, staff and students.
General
Presidents of the College
SUNY Oswego has had 10 presidents since it was founded. For presidential inauguration ceremonies, see Event Recordings on this page.
College History Research Guide
This research guide lists books and a few other resources that are related to college history.
Student Life 1950 - 1989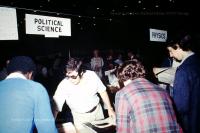 View slideshow: Student Life 1950 - 1989
Campus
Who were our buildings?
Some years ago an alumnus returning to the campus for his 25th Class Reunion remarked, "It's interesting to return to Oswego; all of my old professors are now buildings." Among Special Collections' most frequently asked questions are those dealing with the identities of persons for whom campus buildings have been named.
Shady Shore
Camp Shady Shore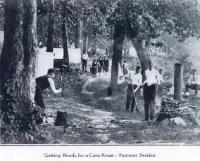 View slideshow: Camp Shady Shore
Shady Shore (the President's house)
Publications
The Ontarian (yearbook)
We have digital copies of The Ontarian from 1922 - 2005 (when it stopped publishing). These are available through the New York Heritage Digital Collections.
The Oswegonian (newspaper)
The Oswegonian began publishing in 1935 and is still published weekly. Paper copies of recent editions and microfilm copies of older editions are available in Special Collections; electronic copies are linked below.
Campus Update
The Campus Update is published by the Office of Public Affairs for the SUNY Oswego community. It is distributed biweekly throughout the academic year and monthly during the winter and summer breaks.
The Great Lake Review
Great Lake Review is SUNY Oswego's student-edited literary and art magazine. Great Lake Review is published, in general, every semester, and contains primarily student art work, poetry, fiction, and other literary work.
Display to Archives (faculty publications)
The Display-to-Archives Program is an ongoing, campus-wide effort begun under President Stephen Weber in 1988 to recognize, exhibit, collect, and promote access to SUNY Oswego faculty's scholarly and creative work. Faculty are invited to donate copies of their recent published professional work—books, chapters, articles, music scores, media, translations, etc.—or material such as programs and reviews related to their recitals, exhibitions, theater productions, etc.
Event Recordings
Presidential Inaugurations
The past two SUNY Oswego presidential inaugurations have been recorded and can be streamed online.
Commencement Recordings
SUNY Oswego's commencement ceremonies from 1992 - 2006 were recorded and can be streamed online.
Pan-Am Flight 103 Memorial Dedication April 13, 1993
The video shows the dedication of the Pan Am Flight 103 Memorial in Penfield Library, which honors SUNY Oswego students Colleen R. Brunner and Lynne C. Hartunian. The Memorial Celebration was moderated by Joe Grant, then Vice President of SUNY Oswego. Speakers also include Dr. I. David Glick, who gave the formal welcome, President Stephen Weber, Professor William Stark, who unveiled the memorial, Mrs. Brunner and Mrs. Hartunian, mothers of Colleen and Lynne, and Rev. James Lang, who gave the closing meditation.
Specific Topics
1920s Print Shop
Bits & Bytes
Bits & Bytes was a live, 30 minute, weekly TV show produced by the SUNY Oswego Instructional Computing Center (ICC) in conjunction with SUNY Oswego Learning Resources. The show aired from 1997 - 2002.