Student highlights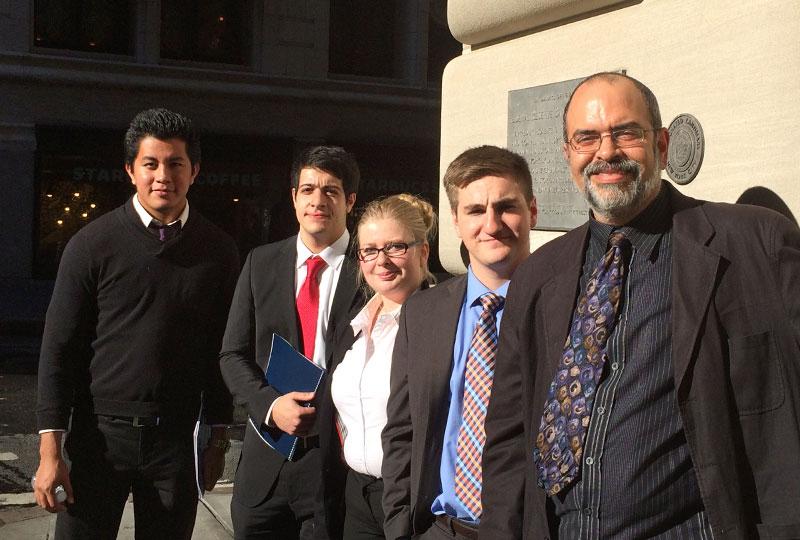 Students tackle Fed Challenge
The SUNY Oswego Fed Challenge team competed Oct. 30 in New York City against nearly three dozen other colleges from the New York Federal Reserve District. Students representing SUNY Oswego were (pictured, from left) Hector Escamilla, in his second year as a Fed Challenge presenter, and first-time competitors Mazen Bouzeineddine, Natalie Metz and James Piccirillo, accompanied by economics professor and Fed Challenge coach Ranjit Dighe. Read more >>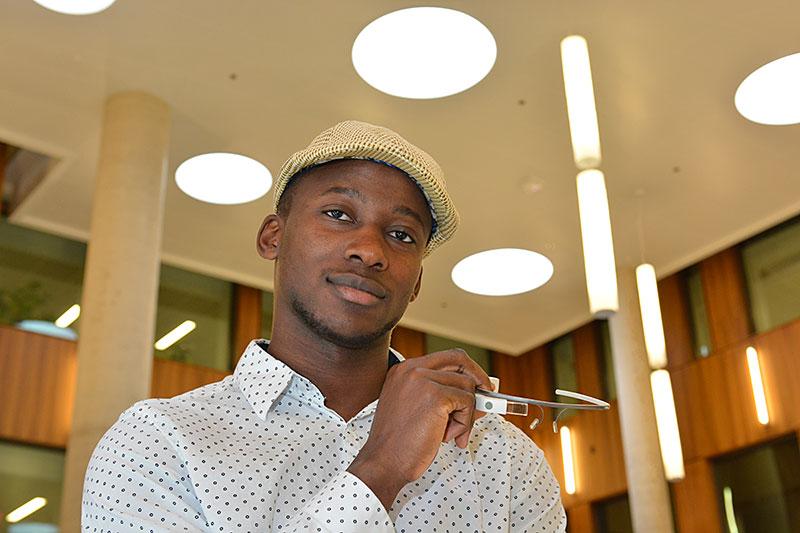 Passion for developing AI-enhanced software drives Lincoln W Daniel
Junior computer science major Lincoln W Daniel, who works with his own campus software-development team and aims for a career that marries search technology with artificial intelligence (AI). Read more >>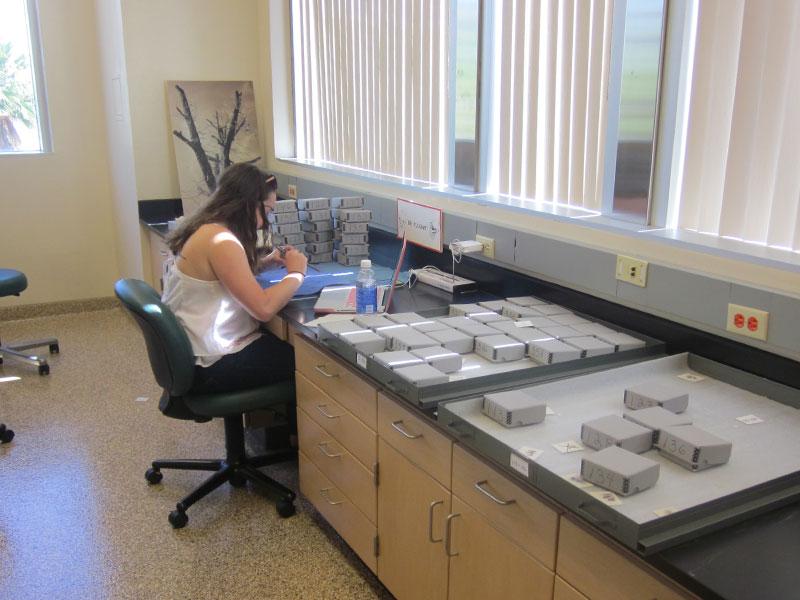 Anthropology student, faculty travel for hands-on research
Senior anthropology major Hallie Gaffney (pictured), anthropology faculty member Kathleen Blake and Kristen Hartnett, a forensic anthropologist for the state of Connecticut, traveled to Arizona to conduct research at the Maricopa County Forensic Science Center from June 14 to 18. They examined a diverse population of 400 individuals -- in particular the skeletonized pubic bones, to identify differences between males and females. They evaluated metric and nonmetric traits and plan to present their findings at the American Academy of Forensic Sciences meeting in February in Las Vegas.
Creative writing event spotlights banned books
The first-ever Creative Writing in the Quad event featured readings of banned books, games and many activities on a picture-perfect Friday afternoon, Sept. 25. Students could select one of many well-known (or lesser-known) books that have been banned somewhere and win a copy, listen to readings from banned books, tie-dye T-shirts, enjoy free food and generally enjoy creative writing come to life.
Spanish major ready to pursue global plans
Spanish major Mallory Russell is looking overseas, having applied for a prestigious Fulbright fellowship to teach English in Brazil, with an alternate plan of applying to the Teaching Assistant Program in France (TAPIF). After that, she is considering graduate school to focus on interpretation or translation. Her time at Oswego gave her a wealth of language opportunities, including studying abroad in Salamanca, Spain, and teaching English to Spanish speakers in the Syracuse school district. Read more >>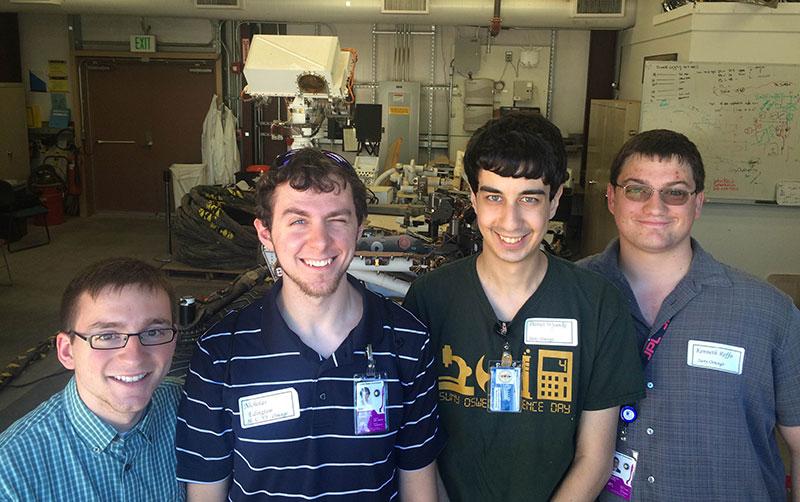 Students continue to excel at NASA
The latest batch of Oswego interns at NASA's Jet Propulsion Laboratory in California (pictured from left, Brandon Caruso, Nick Edington, Daniel Wysocki and Kenny Roffo) this summer are shown with a planetary rover in the midst of their 10 weeks at the lab based at the California Institute of Technology. The four are computer science majors; Wysocki also majors in physics and Roffo in math. They continue a strong relationship between Oswego and this premiere laboratory.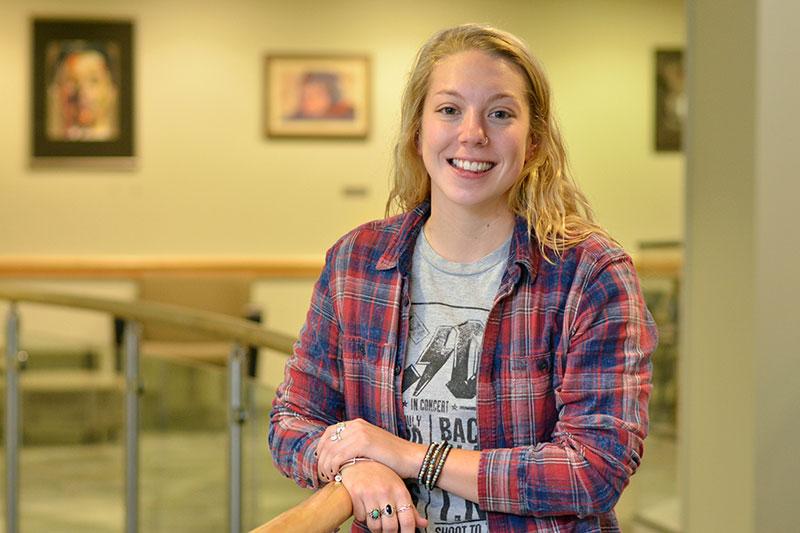 Esther Gabriel loves challenges in philosophy, lacrosse
Meet All-SUNYAC Second Team lacrosse midfielder Esther Gabriel, a three-time captain as well as an honors program major in philosophy with a logic minor. Read more >>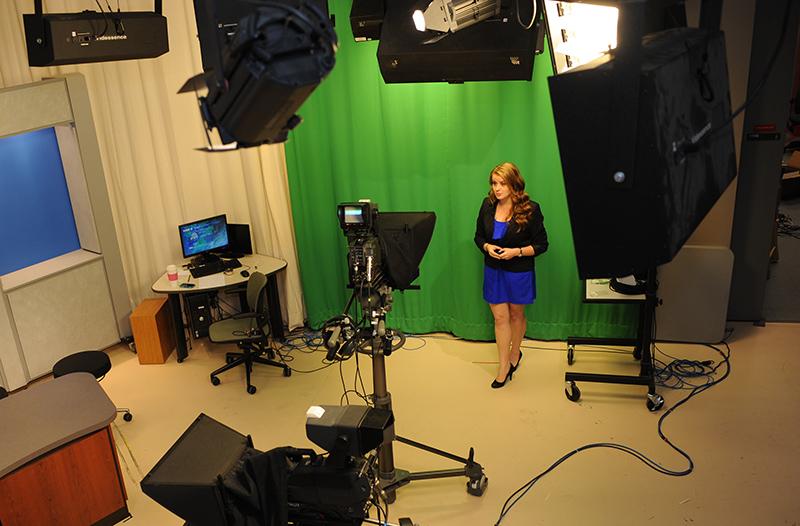 Future bright for meteorologist Molly Mattot
Central New York residents may recognize May meteorology graduate Molly Mattot as the weekend morning meteorologist for WSTM-3/WTVH-5 and on the CW-6's 10 p.m. newscast Mondays through Wednesdays, a job she started full time after graduation. "My time at WTOP-10, both on-air and as a manager, is irreplaceable and priceless," she said of the college's student-run TV station. Through the college's storm-chasing course and lake-effect OWLeS research grant, she "got to do tasks that I now do every day at my job, and learned which I liked, disliked, which were easy and which I needed to improve on … I made professional connections with professors and alumni that helped me get the job I have now."