Committee on Intellectual Integrity
IMPORTANT LINKS: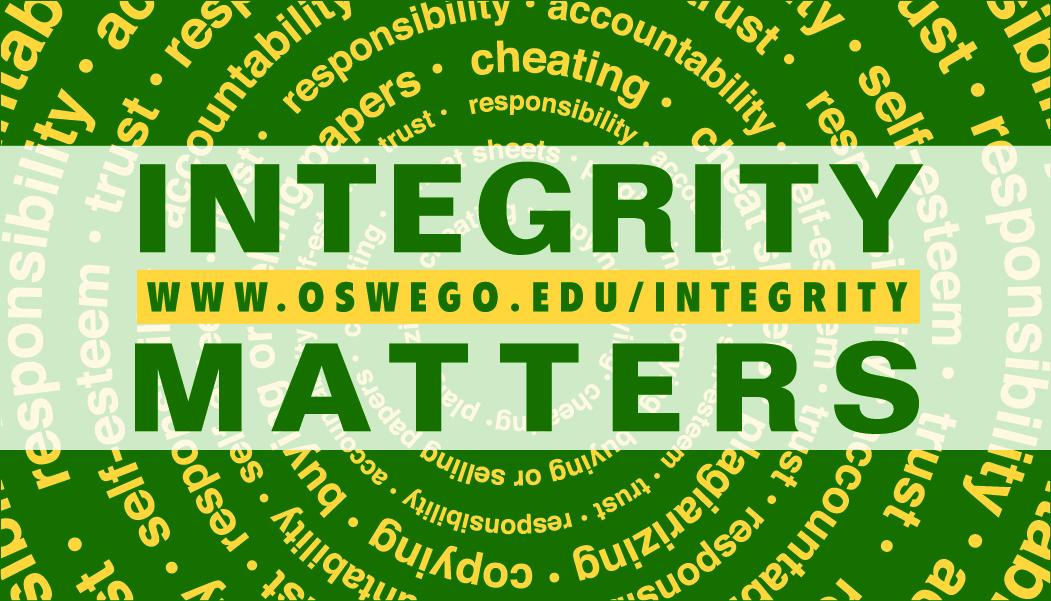 (image by KayCie Simmons, full image and QR codes available under Faculty Resources)
Digital Signage now available on campus systems! Five different signs!
| one | two | three | four | five |
The charge of this committee is to coordinate campus-wide efforts to uphold intellectual integrity, including providing relevant educational resources and instruction to both faculty and students.
Membership: David Bozak (presiding ), Steven DiMarzo, Lisa Evaneski, Barbara Garii, Douglas Hemphill, Gwen Kay, Ray Morrison, Michael Murphy, Jim Nichols, Julie Pretzat, Shannon Pritting, Hema Rao, Kristian Woolley
The committee meets roughly the first and third Wednesdays of the month from 9 to 10 a.m., 711 Culkin Hall.
2011-2012

February 1, 2012 - meeting cancelled
February 29, 2012 - meeting cancelled
April 4, 2012 - meeting cancelled
April 18, 2012 - meeting cancelled

Archive of past committee minutes
College Policy on Intellectual Integrity
"Intellectual integrity on the part of all students is basic to individual growth and development through college course work. When academic dishonesty occurs, the teaching/learning climate is seriously undermined and student growth and development are impeded. For these reasons, any form of intellectual dishonesty is a serious concern and is therefore prohibited." [preamble]
The full policy can be found in the college catalog.
Reports/papers
Reports and papers by committee members can be found here.
Academic integrity survey
View results of the academic integrity survey administered during the 2006-2007 academic year.
Text matching service pilot project
CII launched a pilot project during the spring 2009 semester to investigate the effectiveness of the availability of a text matching service such as Turnitin. Learn more