History exposes students to people, places and times they would otherwise not experience. Through the study of history students learn how the actions of the past have shaped today's society and may inform the future.
Our courses stress the importance of disciplined methods of inquiry and interpretation, as well as empathy and imagination, and are taught by widely published scholars and seasoned historians. Students may choose to specialize their curriculum in United States, World, African, European, Latin American, or Asian History. Furthermore, courses taught by our faculty support numerous programs on campus including American Studies, Global and International Studies, Medieval and Renaissance Studies, Gender and Women's Studies, Africa and African-American Studies, and Native American Studies.
Senior Students Present at Quest
Six senior students, from left to right, Rose Small, Nicole Dempsey, Lauren Nevil, Elias Cerussi, Raymond Theiss, Connor Breese presented their senior thesis on various topics at Quest 2019.
Quest 2019: Lightning Talk
A group of interdisciplinary students, including history majors participating in Quest's Digital Humanities Lightning talks. Left to right: Professor Candis Haak, Anthony Brienza, Elizabeth Tzivas, Michael Vasquez, Vincent Petraglia, Abraham Bates, Kyly Langlitz, Brandon Grant.
Why major in history?
Knowledge of the larger world equips students to enter international fields. Employers are looking for people with problem-solving, persuasive writing, and listening skills learned through a degree in history. Communication skills and the ability to research and write, furnishes history students with the skills needed to enter a wide range of fields from public relations to events management.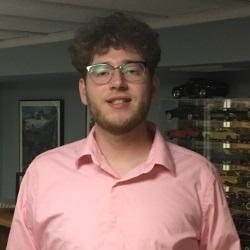 Spotlight
Michael Kaefer
Michael Kaefer
History and German double major
December 2017 graduate
US Student Fulbright Finalist
English Teaching in Germany 2018-2019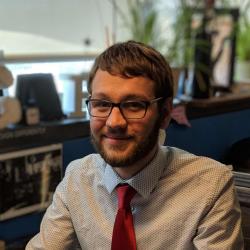 Spotlight
Andrew Smith
Andrew Smith
Becoming a history major was probably the best decision I've made at Oswego. Studying history has exposed weaknesses in my understanding, put my beliefs into question, and shown me the need to view our past critically.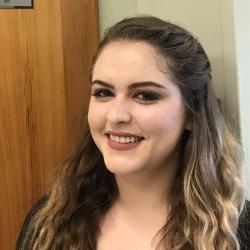 Spotlight
Brianne Branco
Being a student of history has opened a lot of doors for me, including an internship I did this summer at the Seward House in Auburn, NY. The internship introduced me to the exciting field of public history.