Dr. Sandra Bargainnier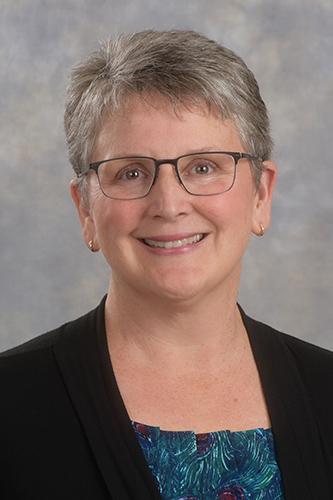 Dr. Sandy Bargainnier is a full Professor in the Department of Health Promotion and Wellness. She served as the department chair for six years. Prior to Oswego, she was an Associate Professor and Program Coordinator for the Health and Physical Education Majors and the I-MOVE Physical Activity Program at Syracuse University. She was an assistant professor of Kinesiology at Penn State University, and an assistant professor of Health Education at Plymouth State University, NH. She started her career as the first health education teacher and head athletic trainer at Milford Public High School in Milford, MA.
 Bargainnier is a National Board-Certified Health & Wellness Coach (NBC-HWC). She is also a Certified Wellcoach® through Wellcoaches in partnership with the American College of Sports Medicine and the American College of Lifestyle Medicine. Bargainnier has been a Certified Health Education Specialist (CHES) through the National Commission for Health Education Credentialing, Inc., since 1991.
 Since 2013, Dr. Bargainnier has personally and professionally been involved with the local refugee community in Syracuse, NY. She and her family hosted a refugee teenager for two years and have since mentored 13 young adult refugees through high school graduation, employment and college.  She has supported others through the family court systems, the naturalization process, legal name changes, Medicaid, FAFSA, TANF and first-time home buying.
​Her scholarship focuses on the sociocultural factors that support the successful transition of refugees from high school to college. She is also exploring the eight dimensions of wellness in refugees and looking at the differences and similarities between recently arrived refugees and those who have been established in the community for more than five years. Her goal is to develop evidenced-based programming in collaboration with local refugee agencies to help the local refugee communities thrive. Bargainnier serves on the Board of Directors for the Building Men Program, Inc., in Syracuse, NY, and the CAPA International Education Academic Advisory Board. She also served six years on the Safe Haven Holocaust Refugee Museum board in Oswego, NY.
 Bargainnier previously served as a national trainer for the Centers for Disease Control and Prevention (CDC), in the following programs: The School Health Guidelines to Promote Healthy Eating and Physical Activity; the Physical Education Curriculum Analysis Tool (PE CAT); and the Health Education Curriculum Analysis Tool (HE CAT). She was also a national trainer for the National Association for Sport and Physical Education (NASPE) Physical Best Health-Fitness Specialist certification program for many years. She has been a curriculum consultant to public and private school districts, state educational departments, and the health education/promotion industry.
Honors and Awards:
SUNY Online Teaching Ambassador 2022
President's Award for Excellence in Faculty Service, 2021
President's Award for Excellence in Academic Advisement, 2017
Education:
Ed.D., Curriculum and Teaching: Human Movement/Health, Boston University
MS, Exercise Science/Physical Education, University of Rhode Island
BS, K-12 Health and Physical Education and Athletic Training, Lock Haven University of PennsylvaniaTeaching:
Teaching:
HON 301 In Search of Meaning: What it Means to be a Refugee in Central New York
HSC 333 Human Response to Stress
HSC 361 Financial Wellness
HSC 386 Wellness for Contemporary Living
HSC 387 Refugee Wellness
HSC 390 COVID- 19: Quarantine is a Privilege
HSC 390 Wellness in Italy
HSC 510 Mind Body Wellness
IPS 320 Introduction to Integrative Professional Studies: Issues and Concepts
IPS 420 Integrative Professional Studies: Capstone