Dr. Najah Zaaeed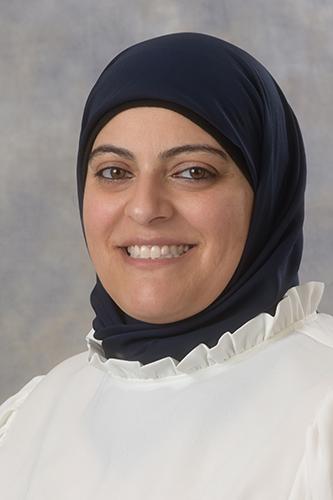 Najah Zaaeed, DrPH, LMSW, EMPA joined the Department of Health Promotion and Wellness, at the State University of New York, Oswego (SUNY Oswego), in August of 2019. Previously, Dr. Zaaeed was an assistant teaching professor in the Department of Public Health at Falk College, Syracuse University. Since 2016, she has taught as an adjunct professor in public health at Syracuse University and SUNY Oswego. Dr. Zaaeed previously served as a mental health specialist for Interfaith Works of Central New York and continues to address the mental health needs of immigrant and refugee communities across the globe.
Dr. Zaaeed earned her DrPH in public health, specializing in health promotion and education, and global health, from Loma Linda University in Loma Linda, CA. She earned her MSW and EMPA from the School of Social Work and the Maxwell School of Citizenship and Public Affairs, respectively, at Syracuse University. She also earned two graduate certificates in gerontology and international leadership and non-governmental organizations from the Maxwell School at Syracuse. She earned her BS in paralegal education from Chancellor University.
Current Work:
Dr. Zaaeed's research interests are in refugee and immigrant health and quality of life, aging with disabilities, maternal and child health, the effectiveness of ecological models for health awareness and mental health at global levels. Dr. Zaaeed has authored a chapter in the book Refugee Education: International Perspectives from Higher Education and NGOs. Further, Dr. Zaaeed has published in the International Journal of Physical Medicine and Rehabilitation and the Journal of Refugee and Global Health. Additionally, Dr. Zaaeed has presented at the North American Refugees Health Conference, as well as the World Confederation for Physical Therapists. Further, Dr. Zaaeed serves as a board member of the Society of North American Refugee Healthcare Providers, Inc.
Areas of Interest:
Health Promotion and Education, Public Health, Behavioral and Mental Health, Health Technology, Global Health, Disability, Refugee and Immigrant Health, Maternal and Child Health
Education:
DrPH, Loma Linda University School of Public Health, Loma Linda, CA, 2017
MSW, Syracuse University School of Social Work, Syracuse, NY 2007
EMPA, Syracuse University Maxwell School of Citizenship &Public Affairs, 2007
B.S. Paralegal Education, Chancellor University, Cleveland, Ohio, 1996
Graduate Certificates
Syracuse University Maxwell School of Citizenship & Public Affairs, 2009
International Leadership & Non-Governmental Organizations
Gerontology
Licensure and Certifications:
Mental Health First Aid, Instructor (Youth & Adult)
The National Commission for Health Education Credentialing, Inc. ‑- Certified Health Education Specialist (CHES #30285)
License of Master Social Work, Syracuse, NY (January 14, 2019, # 105851)
Patient Navigator Certificate, Harold P. Freeman Patient Navigation Institute, NY  2014
Teaching:
HSC 101- Introduction to Health Promotion and Wellness
HSC 230- Health and Technology
HSC 343- Drug Use & Abuse in Society
HSC 514- Wellness and Addictions
HSC 525- Interactive Health Technologies
GRT 501- Introduction to Gerontology