Hart Global Living & Learning Center International Study Scholarship
The purpose of this scholarship is to enrich students' study abroad experiences. Applicants are eligible for a scholarship of up to $1,000 USD based on the guidelines below. Please review the following list of requirements. Additional materials as indicated below should be submitted along with your completed application:
You must be approved to study abroad by SUNY Oswego's Office of International Education & Programs (oswego.edu/international/education-abroad) or by another SUNY institution;
You should obtain one letter of recommendation from a Resident Assistant or someone else in a supervisory position affiliated with Hart Hall (ex. FRM)
You should submit your resume/CV along with your application.
In order to qualify for this scholarship, you must 1) currently reside in Hart Hall and 2) you must have lived there for at least two consecutive semesters prior to your intended departure date.
The length of your study abroad program dictates the amount of funding that you are eligible for:
Program of 10 to 29 days in length = $300.00
Program of 30 days to one semester in length = $500.00
Program that lasts two consecutive semesters = $1,000.00
The completed application and supplementary materials should be submitted to the Associate Provost, Rameen Mohammadi at rameen.mohammadi@oswego.edu. If you have any questions, please send them to erin.timbello@oswego.edu
Sincerely, The Hart Hall Scholarship Committee
There will be a rolling review of applications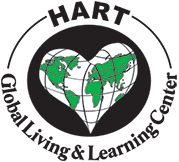 Hart Hall • 315-312-4200
15 Union Road
Oswego, NY 13126
Information
Hart Hall Study Abroad Scholarship