Personal training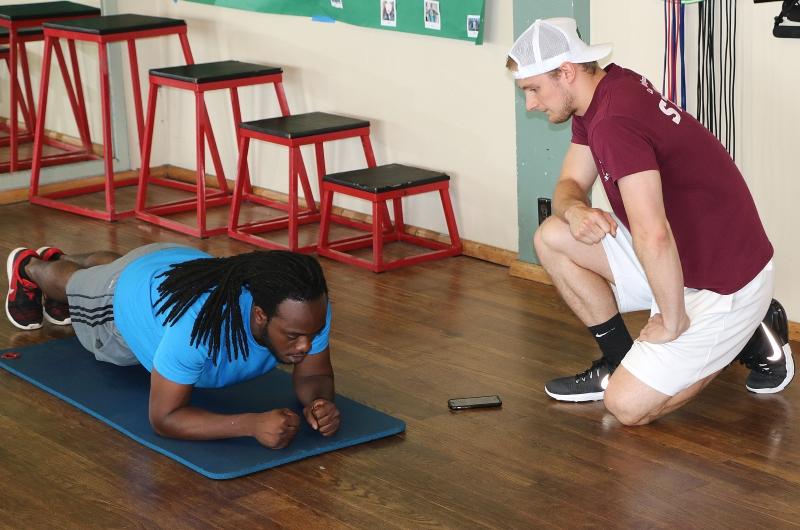 The Fitness Centers provides FREE personal training with a membership. The Fitness Centers also provides FREE one-day orientations for those looking to become familiar with the Fitness Center and the equipment. Personal Trainers are available to design and demonstrate a safe and effective exercise program to help you reach your goals. Need a quick workout from out personal trainers? Check out our Grab and Go workouts.
Personal Training Program Sign-up
You can sign-up at the front desk of either Fitness Center or by filling out the form below. You will be contacted by one of our personal trainer coordinators to set-up a 15 minute initial evaluation. At this evaluation we have you fill out a basic health history and discuss your exercise goals. Following this evaluation, you will be contacted by one of our personal trainers to set-up your first meeting time. We ask that you please be on time and keep all of your appointments.

Please be aware that our personal training program is quite popular and we have limited numbers of personal trainers and resources. We are on a first come, first serve basis, so please be patient. If you have further questions or are curious how much longer you may have to wait, please e-mail us at fitness@oswego.edu.

Personal Trainers are qualified to train individuals of most fitness levels in apparently healthy populations. The personal trainer program is not intended to address rehabilitative concerns.
One-day Orientation Sign-up

You can do this by signing up at the front desk of either Fitness Center (or the form below). The personal trainer coordinators will contact you and set up a one day orientation. Typically, our staff can conduct a one day orientation within a week of signing up. During the one day orientation, our personal trainer can show you how to use some of the equipment and get you started on a simple program.
To sign up for a personal trainer or an orientation, please fill out the form below.
Frequently Asked Questions:
How long is the personal training?
Individual sessions tend to last between 30 - 60 minutes. The entire training time should last between 2-4 weeks depending on your goals and skill level. Our main objective is to teach you the ability to exercise on your own. Your personal trainer will be available for follow up appointments throughout the year.
Who are the personal trainers?
All of the personal trainers are students who have successfully completed our personal training class. The personal trainers are capable of designing a safe and effective exercise program. If at any time you are unsatisfied with your experience, please feel free to contact our office at 312-6001 or e-mail us at fitness@oswego.edu.
If you are interested in becoming a personal trainer, please check out our employment page.
Announcements
Now accepting membership sign-ups for Fall 2021 semester
The Fitness Centers will resume regular operating hours on Monday, August 23

Like us on Facebook

Follow us on Instagram
Quick Links