Student employment opportunities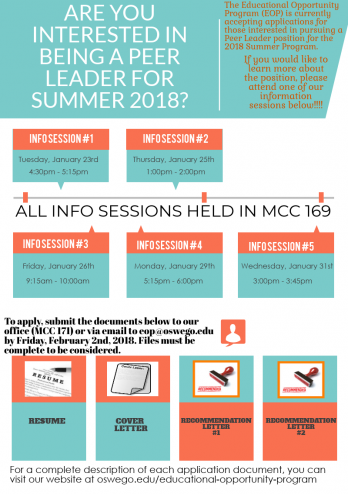 EOP Peer Leader Summer 2018 – Peer Leader Position Announcement
The Educational Opportunity Program (EOP) is currently accepting applications for those students interested in pursuing a Peer Leader position for the 2018 EOP Summer Program.  Applications are due on Friday, February 2, 2018.  
Typically, the EOP Peer Leader position has a work commitment of 4 -5 weeks during the summer (typically the last week of June and the full month of July). There are also 4 mandatory meetings. Two during the spring semester and two video meetings in the month of June. 
Peer Leader Position Application Instructions 
Submit a resume, cover letter and two letters of recommendation to our office (Marano Campus Center 171) or via email to eop@oswego.edu by Friday, February 2, 2018.  Files must be complete to be considered.
Resume - Your resume should include your employment history and leadership roles on campus and in the community.  Additionally, you should identify courses taken in your major.  If you are an undeclared student, you should identify your coursework in general.
Cover Letter - Your cover letter should address your interest in an EOP Peer Leader position and include what you identify as your academic and leadership strengths, your knowledge of and any experience with the EOP program and your engagement in the college overall.  Lastly, you should address what you hope to learn as a result of the experience.
Recommendations - Two letters require.  Recommenders may not include members of the EOP staff (APC's or the Director). One letter should be from a previous or current employer (if possible). 
For more information contact the EOP office at 315-312-3094 or attend one of the Peer Leader Information Sessions in Marano Campus Center, Room 169:
Tuesday, January 23rd, 4:30 pm – 5:15pm
Thursday, January 25th, 1:00 pm – 2:00 pm
Friday, January 26th, 9:15 am – 10:00 am
Monday, January 29th 5:15 pm – 6:00pm
Wednesday, January 31st, 3:00 pm – 3:45 pm