Thinking about Educational Leadership?
Email us at edadmin@oswego.edu for our information packet.  If you have specific course related questions our department chair, Angela Perrotto, can be reached at 585.217.7142!
The Educational Administration program at Oswego is a program designed for students possessing a Master's degree. Students in the program matriculate for a certificate of advanced study (CAS) in educational administration and supervision. Graduates are eligible for School Building Leader (SBL) and School District Level (SDL) New York State certification.
Based on enrollment the Educational Administration Department offers courses for program requirements in the following geographic areas:  Central New York, Rochester/Finger Lakes and Watertown area.  Core courses are generally offered in the evening during the academic year, and with a variety of options available for electives during the summer sessions.  (Projected two-year cycle.)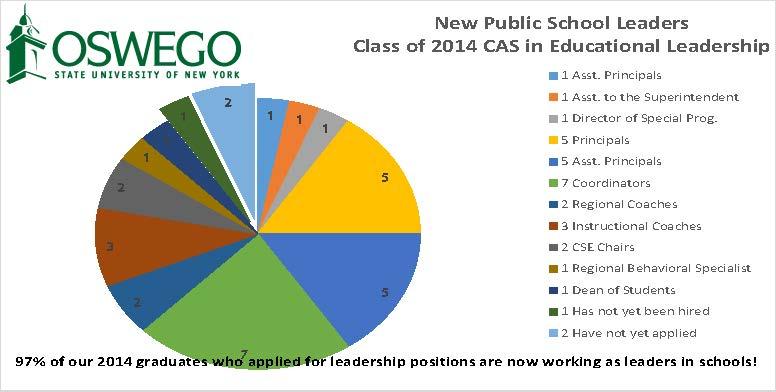 Apply to SUNY Oswego Educational Administration Department CAS program
Read the Fall 2015 (pdf) Newsletter.  
(link for Alumni to provide updates to Ed. Admin. Dept.)
UPCOMING COURSES/EVENTS:
Celebration of Leadership Graduates at Annual Meeting, Friday, May 13, 2016.