It's On Us

On Sept. 19, 2014, President Barack Obama launched his "It's On Us" Sexual Assault Prevention Campaign urging all of us to pledge that we will help prevent sexual assault on college campuses. 
Shortly after its release, President Obama's video that accompanies the "It's On Us" Campaign iwas shown on all campus digital signage screens where sound was available. You can find SUNY Oswego's video on this important topic above. Sexual assault is everyone's problem. We must all work to build a culture of respect and shared responsibility. 
#ItsOnUs to:
Step up and say something
Not look the other way
Take the Pledge to help stop sexual assault

Join me and take the Pledge.
Deborah F. Stanley, President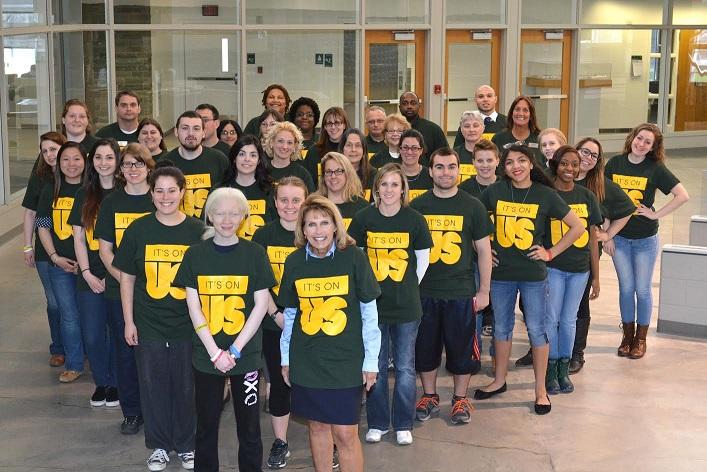 On Sept. 30, 2014, the Student Association passed a resolution to a standing ovation in support of the "It's On Us" campaign. 
What is Title IX?
Title IX is the federal anti-discrimination law that states:  "No person in the U.S. shall, on the basis of sex, be excluded from participation in, be denied the benefits of, or be subjected to discrimination under any educational program or activity receiving federal financial assistance."(Title IX 1972 Education Amendments). Title IX bans sex discrimination throughout our college and campus community -- in all programs and activities including, but not limited to, academic and athletic programs, financial aid and student records and accounts, health and counseling services, and housing and residence life programs. Title IX also prohibits sexual harassment, including sexual violence, which is a crime.  

How do I report an incident?
See our incident report page, or information on reporting a sexual assault.