'I Am Oz' campaign celebrates diversity, community (from November 2014)
Portraits in diversity, the faces of SUNY Oswego students, faculty and staff peer at viewers across campus from posters and digital signs, declaring with one voice, "I am Oz."
Jerri Drummond, the college's new associate vice president of student affairs and dean of students, said the campaign celebrates one or more racial, ethnic or cultural groups a month in line with federal declarations, and carries with it an assortment of events to provide education and information.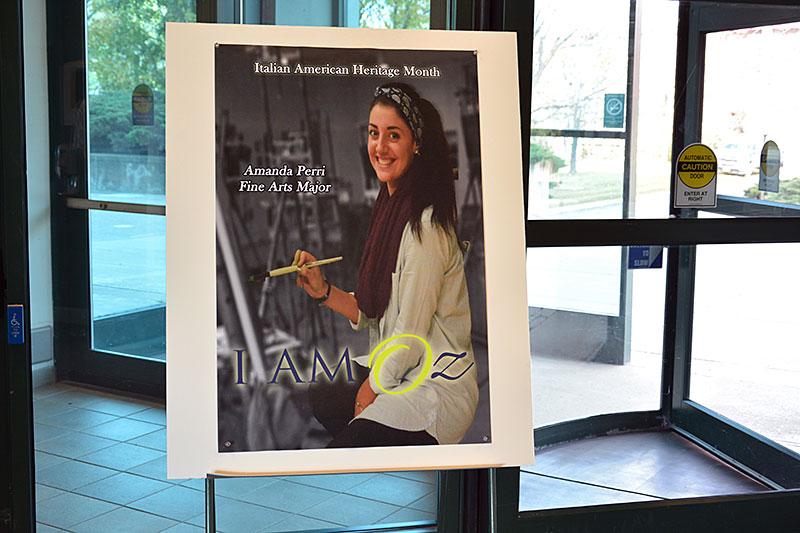 The program launched in September with National Hispanic-Latino Heritage Month, continued in October with Italian-American Heritage Month and moves into Native American Heritage Month for November. Others will follow in 2015.
"'I am Oz' means we are a community, even though we are made up of different ethnic and cultural groups," Drummond said. "We stand together as 'I am Oz.' It's about inclusivity-everyone is equally valued, celebrated and welcomed."
The effort spins off the college's Diversity and Inclusion Committee, chaired by Jerald Woolfolk, vice president of student affairs and enrollment management.
Derek Rousseau, Laker track and field head coach, made the photos for the posters, and junior studio art major Amanda Perri did the graphic design, according to Drummond.
Upcoming celebrations in the "I am Oz" campaign include Black History Month in February, Women's History Month in March and, pushed ahead by the academic calendar from their usual May, combined observances of Jewish and Asian American heritage in April.
The college has steadily increased the diversity of the student body, with 26 percent of the 2014 class of freshmen coming from diverse backgrounds racially, ethnically and socioeconomically.