Staff profile
Tyrone Johnson Neuland
Assistant Director, Instructional Support
---
Contact
29B Lanigan Hall
315-312-5701
ty.johnsonneuland@oswego.edu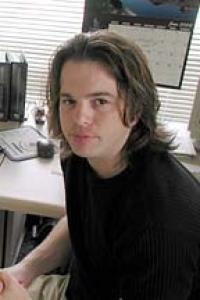 Tyrone provides leadership and management of the team that provides campus wide technical support for instruction and special events. The team is responsible for over 200 learning spaces, advanced technology classrooms or presentation enabled meeting rooms, the campus cable TV system, a satellite reception system, videoconferencing and webcasting systems, digital signage systems and sound systems.
Tyrone also performs as the  project manager for Campus Technology Services activities related to facilities and construction projects. In this capacity he provides leadership in consulting, planning and execution for CTS on all aspects of technology in the design and construction phases of these projects.
Tyrone joined SUNY Oswego in 1993 as a telephone technician. He graduated from Syracuse University in 1990 with a BFA. Tyrone went on to get his masters from SUNY Oswego in 2000.