Updates Over Winter Break Increase Network Capacity
A responsive, reliable and scalable digital network is a core requirement for the campus to reach our strategic goals. To deliver the five impacts the campus is focusing on require ensuring that faculty, staff, and students have access to the technical resources required to thrive. The series of network improvements CTS did over the holidays improves all three of these attributes and positions the campus for the next cycle of technology.
Sean Moriarty, Oswego State's Chief Technology Officer said "I think the impact of the improvements will be noticeable to almost everyone on campus. Faculty in the classroom should see improved access to the Internet when they are using interactive mobile technologies or calibrated peer reviews. Staff working throughout the day should notice technologies they access from off campus are more responsive and students in residence should notice less congestion in the evening hours when they are studying or relaxing. We have not finished upgrading the network, as there are firewall changes still scheduled for March break, but we are in a better position than we were before the break."
The illustration below encapsulates the changes that were completed. Network capacities were upgraded at building, core, and Internet aggregation points.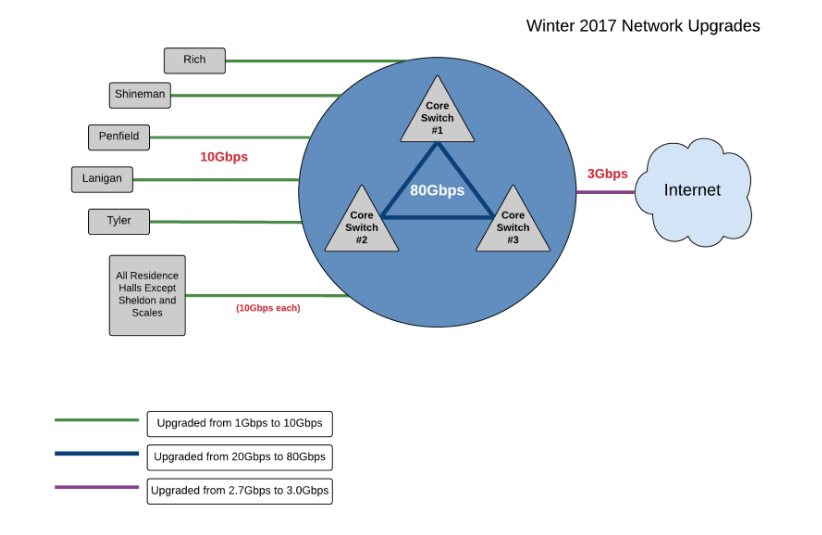 Building Infrastructure Upgrades
Network traffic that leaves a campus building must travel to the campus core network to be routed correctly.  The network capacity in which to do this for each building is 1Gbps.  Over break, Rich, Shineman, Penfield, Lanigan, Tyler, Seneca, and Waterbury were each upgraded to a capacity of 10Gbps.  
Core Network Upgrades
Since building capacity to the core was increased, network capacity within the core network also needed to be increased.  Our core network consists of three main aggregation points at three different locations on campus.  Traffic was traveling between those locations at 10Gbps.  They are now traveling at 80Gbps.  
Internet Upgrades
In addition, the network capacity for traffic leaving the campus has been increased.  The network capacity to the Internet was upgraded from 2.7Gbps to 3.0Gbps. Work will continue through the semester to upgrade the remaining academic buildings.  This will complete Phase 1.  Phase 2 will move to upgrading network equipment that directly connects end-user wired devices to the network.  This will start during summer 2017.