Office 365 is Free for Students, Faculty and Staff
Did you know that everyone at SUNY Oswego can get Office 365 for free. Let us show you how easy it is.
What is Office 365?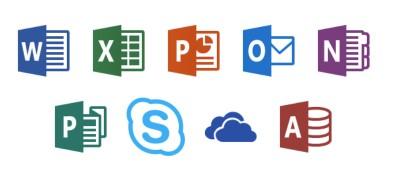 Office 365 is the latest, complete version that includes Word, PowerPoint, Excel and OneNote. It can be used on a traditional laptop or desktop computer, but also works on web browsers and mobile (iOS, Android). Office 365 works online and offline, so you can always be productive.
So, where can I get it?
Fire up your favorite web browser (we like Google Chrome), and head over to Microsoft. You'll need to create a new Microsoft account (also free) using your Oswego email address. Once your account is activated, you will be given access to download the latest version of Office for your computer. 
It Works on Everything
Got a Mac? No problem. You even get access to multiple copies with your free student account.
Have an iPhone or iPad? Search the App Store for "Office 365" and you'll see that Microsoft offers apps for Word, PowerPoint, etc. Download them for free, and then sign in with your account to get full access to edit on the go. They're also available for Android. Perfect for those days where you literally ride the bus around campus for hours in order to avoid the snow.
Don't have a Windows or Mac computer? Don't let a Chromebook get you down – Office 365 web version exists, and it is glorious. Well, um, you make it glorious, potentially… anyways, head over to Office 365 and check it out.