New Google Bar Arriving in LakerApps
Google recently announced the launch of the new Google bar and is rolling it into LakerApps starting 10/31.
According to Google's notice, this change "is designed to be simpler and more consistent with Android and Chrome OS."
For LakerApps users, the black bar across the top of the page with links to Gmail, Calendar, Drive, Sites, etc. has been replaced by a grid icon located next to your email address in the top right of the page.  It looks similar to the following.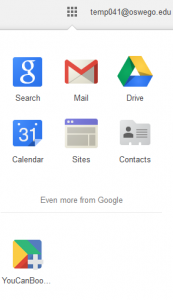 Indeed, it appears that there will now be at least two clicks to get to other apps - one to open the grid icon, a second to launch one of the core apps.  
In some changes that Google makes, they allow a period of time for users to opt-out of it until Google decides to make it permanent.  There doesn't appear to be an opt-out option for the new Google bar.  This one is here to stay.
For more info:  http://insidesearch.blogspot.com/2013/09/updating-google-bar-many-products.html and http://whatsnew.googleapps.com/.
Tell us what you think of the new bar in the comments!