LakerApps Drive Now With Unlimited Storage
Earlier this fall, Google announced plans for their "Drive for Education" program in which  "Google Apps for Education" users would have unlimited data storage in Google Drive.
Google has been slowly rolling this out to Google Apps for Education customers which includes SUNY Oswego's LakerApps.  We are happy to say that the unlimited storage has now been applied. SUNY Oswego users may upload unlimited files, each up to 5TB in size, to LakerApps Drive.
When might you want to use Drive? If you have forgotten a thumb drive to store a file or even if you need a place to backup your files, Drive could help out.  If you don't have Microsoft Office and need to create documents, Drive can also help out. It can natively create basic word processing, spreadsheet, presentation, forms and drawing files.
To get started, login to LakerApps at www.oswego.edu/mail and then click the "Drive" app from the application grid in the upper right corner, near your email address.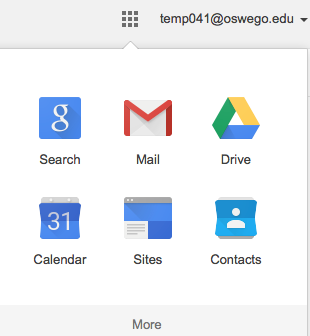 Please call (315.312.3456) or email (help@oswego.edu) the Help Desk if you need assistance or have any questions.