Help Desk Self Service - Submit and Check Tickets Online
CTS is happy to announce an online system that will allow you to interact with the Help Desk from your web browser.   The system is called "Self Service" and is available from a link with the same name on the www.oswego.edu/help website.
Log into Self Service with your Laker NetID and you'll see a page that looks like the following: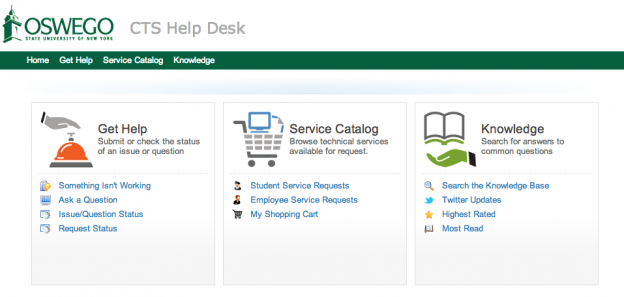 The system is divided into three sections.
The "Get Help" section allows you to submit a new ticket if something isn't working or if you just need to ask a technical question.  You can also check the status of your tickets from this area.
The "Service Catalog" is where you can browse the CTS catalog of requests.  It is broken into student and employee requests.  These requests range from installing a piece of software in a computer lab, requesting a technical training or registering a third device on the residential network.  The shopping cart allows you to "order" items now or at a later time.
The "Knowledge" section allows you to search for answers to your SUNY Oswego technical questions.  The articles have been written by CTS staff to assist in answering commonly asked technical questions related to the services used on campus.  Be sure to check the "Twitter Updates" for the latest news from CTS and to follow us.
We'd like to thank members of the campus, including faculty, staff and students, that volunteered their time to test out the system before releasing it to the campus.  They provided us with extremely valuable feedback to make the service even better before reaching you.
Please feel free to explore Self Service at www.oswego.edu/help and let us know what you think.