Google Classroom is Now in Session
On August 12, 2014, Google released the "Classroom" app to their Google Apps for Education customers.  Google has positioned the application into the Core Apps of our LakerApps suite of products, giving the application the protection of the SUNY Google contract.
While Classroom is available for the campus to use, it will be an unsupported application. The support for online learning remains with the ANGEL and soon Blackboard Learn environments.  The campus is welcome to use Classroom knowing the support will be limited to what Google has available.
Faculty should be aware that there is no student integration available with Google Classroom.  Student enrollments are managed by email invitation or through a PIN.
To get started, log into LakerApps and follow the three easy steps below.
Click the application grid next to your email address in the upper right of the window.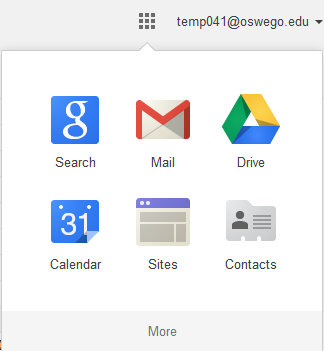 2. Click on the "More" link at the bottom. You will see something similar to the following: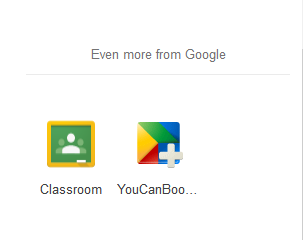 3. Click on the "Classroom" icon.
Alternatively, you can login directly to Classroom using the www.google.com/classroom link.
For more information on Classroom, please visit www.google.com/edu/classroom.