CTS Rolls Out New VPN Client
In an attempt to improve access to services from off-campus, CTS is rolling out a new Virtual Private Network (VPN) application available to all faculty and staff.
The VPN allows you to securely connect to the SUNY Oswego network to access resources that normally you would be unable to reach while off campus. The new, web-based VPN makes it possible to connect to the following services while you're away from campus:
Banner

BDMS (Banner Document Management System)

Degreeworks

Academic Events Calendar

your network-shared folders
The VPN is available at https://vpn.oswego.edu/facstaff. You can log into the service using your Laker NetID and password.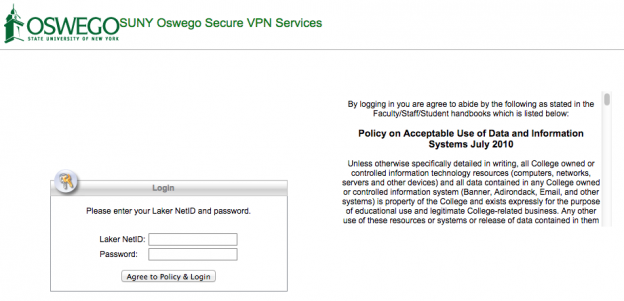 The application is still in its early stages so it may not have access to all of the services you need. If this is the case, please contact the CTS Help Desk, at 315-312-3456 or help@oswego.edu. You can also contact us with questions or suggestions on how to improve our VPN. Your feedback is extremely important to us.