Adobe License Changes
Last year, CTS was able to purchase an Adobe Creative Cloud license for the campus that allowed us to install the Master Suite products on SUNY-owned equipment.  This is a subscription service that expires on 9/29.  Due to the subscription ending, we are now able to join the SUNY Adobe contract at a significant cost savings to the campus.  
There are a few changes related to this that you should be aware of:
The SUNY Adobe contract requires that a new serial number be used.  The existing license ends 9/29.  If you have had an Adobe product installed over the past year, you may receive an expiration notice upon launching an Adobe application.  If this is the case, please follow these instructions:

On a PC

, please go to your start menu and choose "LANDESK Management">"Portal Manager".  A window such as the following will open up.  Check the "Adobe License Updater" and click on the "Launch" icon in the gray bar near the top of the listing of applications. This will update your software with the new serial number.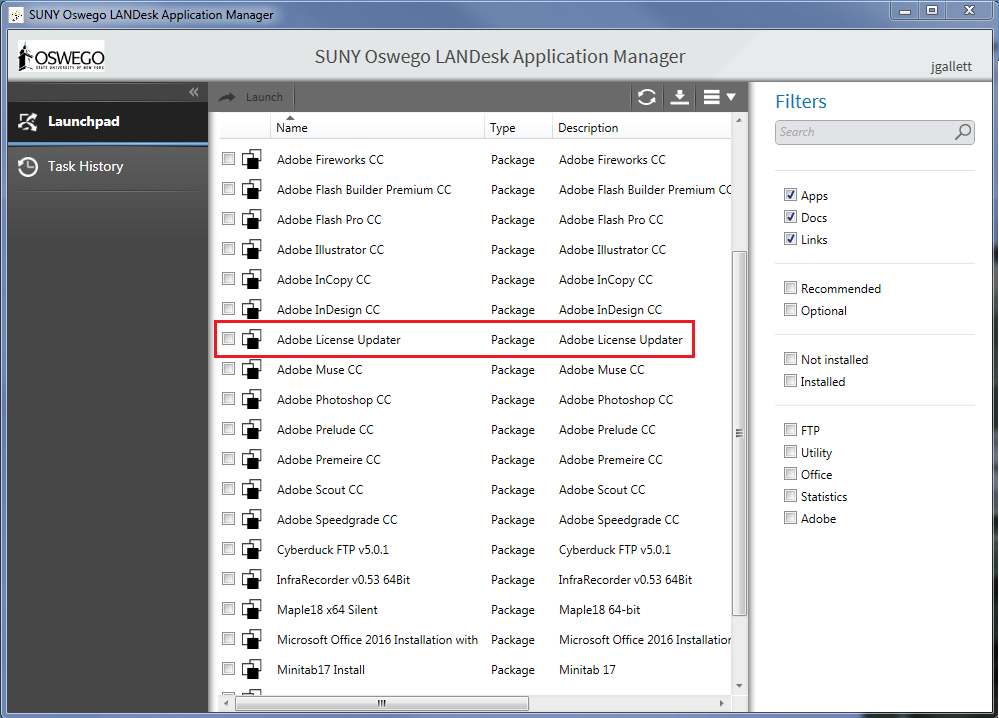 On a Mac, please call the Help Desk so staff can remotely fix the serial number on your device.
The SUNY Adobe contract continues the

Home Use Program

.  This program allows faculty and staff to purchase the Creative Cloud for approximately $10 to be installed on a personal device.  Previously, the Home Use Program allowed the installation on (2) machines.  This has changed to (1) personal device.  

The SUNY Adobe contract has a restriction on the number of licenses.  Due to this, we will be scaling back the number of computer labs it is available in to the following locations:

     Penfield Lab, Penfield 24 Hour Room, and Penfield Lobby,

     Marano Campus Center 207,

     the residence hall labs in Oneida, Hart, Waterbury, and Scales,

     the departmental labs in Graphics, Communication Studies, and Technology.  
If you would like to have Adobe installed in a particular lab not on this list, please contact the Help Desk.
If you have any questions regarding the new Adobe contract changes, please feel free to contact the Help Desk at 315.312.3456 or help@oswego.edu during normal business hours.