Let's Talk!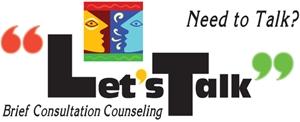 Let's Talk is a Counseling Center Outreach Program designed to engage students by providing informal walk-in consultations with a counselor. See below for hours and locations. Additional sites, days, and hours may be added on other parts of campus.
Let's Talk is considered different from counseling and is not a "clinical" service. We call it "informal consultation" or "consultation and support." There is no formal intake, no appointments and no fees.  Students are encouraged to drop by and talk about whatever is important to them. Meetings have no set time length and are one-on-one.
The purpose of Let's Talk is to provide a pre-counseling opportunity for you to try out talking to a counselor. Many students are helped by one visit. Others stop by occasionally. Some could benefit from ongoing counseling and are encouraged to come to the counseling center.  Once a connection is made with a counselor and the process is demystified, it's much easier to make a referral for formal counseling.
Let's Talk Locations Spring 2019
Mondays
| | |
| --- | --- |
| Time | Location |
| 1:00pm-2:30pm | Shineman Hall (room 128) |
| 3:00pm-4:15pm | Seneca Hall basement (Meeting room) |
| 4:00pm-5:30pm | Scales Hall (room 117) |
| 4:30pm-5:45pm | Cayuga Hall room 103S |
| 6:00pm-7:15pm | Village Commons (upstairs) |
Tuesdays
| | |
| --- | --- |
| Time  | Location |
| 2:00pm-4:00pm | Laker Hall (room 115B across from elevators) |
| 3:00pm-4:15pm | Oneida Hall Piano Room (across from elevators) |
| 4:30pm-5:45pm | Onondaga Hall Piano Room (basement) |
Wednesdays
| | |
| --- | --- |
| Time | Location |
| 11:00am-2:30pm | Penfield Library (room 211) |
| 3:00pm-4:15pm | Waterbury Hall Basement (room B01) |
| 4:30pm-5:45pm | Riggs Hall Basement (Room B20) |
| 6:00pm-7:15pm | Mackin (Second floor lounge) |
Thursdays
| | |
| --- | --- |
| Time  | Location |
| 3:00pm-4:15pm | Lakeside Resource Room (Room 140) |
| 4:30pm-5:45pm | Funnelle (basement) |
| 6:00pm-7:15pm | Hart Hall (RHD Office) |
Fridays
| | |
| --- | --- |
| Time | Location |
| 3:00pm-4:15pm | Cayuga Hall (room 103S) |