Let's Talk!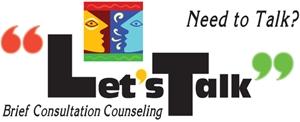 Look for additional locations and times in the fall semester
Let's Talk is a Counseling Services Center program designed to engage students who would not otherwise come to counseling by providing informal walk-in consultation with a counselor. In the Spring 16 semester, we will offer services on Wednesdays in Johnson Hall in Room 140 from 3:30 to 5 p.m., and Oneida Hall in the piano room from 6 to 7:30 p.m.  and Tuesdays 5:30-7:00 in 205 Hewitt. Although the site locations are in Johnson Oneida Hall and Hewitt the service is open to all students both on and off campus.
Let's Talk is considered different from counseling and is not a "clinical" service. We call it "informal consultation" or "consultation and support." There is no paperwork to fill out, no formal intake, no appointments and no fees.  Students are encouraged to drop by and talk about whatever is important to them. You are also allowed to meet anonymously if you prefer. Meetings have no set time length and are one-on-one.

The purpose of Let's Talk is to provide a pre-counseling opportunity for you to try out talking to a counselor. Many students are helped by one visit. Others stop by occasionally. Some could benefit from ongoing counseling and are encouraged to come to the counseling center.  Once a connection is made with a counselor and the process is demystified, it's much easier to make a referral for formal counseling.