Habitat for Humanity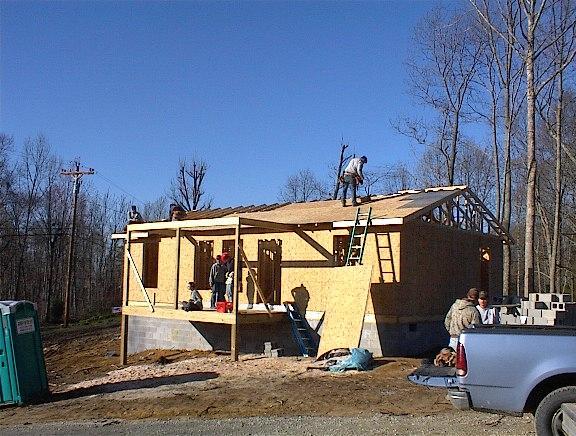 Habitat for Humanity (HFH) is an international organization that has been partnering with families and communities to build affordable, no interest houses for low-income families. SUNY Oswego became an official Habitat for Humanity Campus Chapter in April 2003. The three main functions of the chapter are building and rehabilitating houses in partnership with HFH; educating the campus about affordable housing issues and the work of HFH,; and raising funds for the work of HFH. Every year students participate in the Alternative Spring Break Program and have the opportunity to spend an entire week volunteering with HFH building homes, friendships and lasting memories.
The Habitat for Humanity Club offers opportunities for students to help eradicate homelessness locally, nationally, and throughout the world.  We work through volunteer action, awareness, and advocacy to build houses, communities, and hope worldwide.
To get involved with SUNY Oswego's Habitat for Humanity Campus Chapter, contact habitat@oswego.edu. 
Alternative Spring Break Program
An Alternative Spring Break trip may be the best school break trip you will ever have. Why? It provides an opportunity for you and your friends to travel and spend a week working side by side with a future habitat homeowner. And not only do you help people in need, it's also fun! You'll have the opportunity to improve your carpentry skills, connect with new people, visit a new place and make a real difference in others' lives by working to eliminate poverty housing.
Application available here during the fall semester
If you are interested in participating or learning more about the Alternative Spring Break program, visit 145 Marano Campus Center or email habitat@oswego.edu.
Community Services
145 Marano Campus Center (The Compass)
SUNY Oswego
Oswego, NY 13126
Phone 315.312.5360 or 315.312.2505 
Fax 315.312.5406
E-mail service@oswego.edu