Cynthia Clabough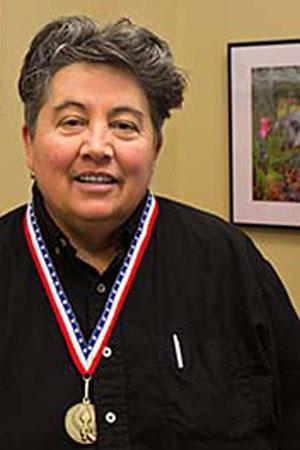 Department: Art
Rank: Professor
Contact Info: cynthia.clabough@oswego.edu
Office Hours: Tuesday 5-6pm in Lanigan Hall room 32, Thursday 3-4pm in Hewitt Union room 24H
Personal Bio:
Professor Clabough joined the faculty at SUNY Oswego in 1994. Before joining the faculty at SUNY Oswego, she taught at Sinclair Community College in Dayton, Ohio. Throughout the 1980s she worked as a research/medical illustrator at Southern Illinois University in Carbondale.
Education:
Southern Illinois University—MFA degree in drawing and painting, 1985, Carbondale, Illinois
Lake Erie College' BFA degree, 1980, Painesville, Ohio
Cuyahoga Community College—1977-1978, Cleveland, Ohio
Cooper School of Art' 1975-1977, Cleveland, Ohio
Specialization: 
Graphic Design and Illustration
Honors/Awards:
President'  Award for Excellence in Teaching, Oswego State. 2010 
Research and Scholarship Award, SUNY Research Foundation. One of 29 faculty selected from across the SUNY system. 2007
President'  Award for Excellence in Academic Advisement, Oswego State. One of three recipients. 1999
Publications:
Vaginite Temple to Anne, in Imaginable Figures in Everyday Life by Harrell, Mary (Chiron Publication, forthcoming Spring 2016), cover illustration.
End of the World' in Activist Art in Social Justice Pedagogy: Engaging Students in Local Issues Through the Arts by Beyerbach, B. & Davis, R.D. (Peter Lang Publishing, Inc., June 2011), cover illustration.
Performances/Exhibitions:
My Name is Cynthia, My Family is of Many, My Memory is Evolving. An exhibition of visual essays on becoming'of-age' and other sundry tales from an artist unraveling with purpose. Eastern Central College, Union, MO. September 2013. (SOLO)
My Name is Cynthia, My Mother's Name is Anna, My Family is of Many, My memory is Evolving. Tyler Art Gallery, SUNY Oswego,Oswego, October-November, 2012. (SOLO)
Marking Time, Capturing Experience,Sparkytown, Syracue, NY. Spring 2013 (with Kelly Roe)
My Mother Is' SUNY Oswego Metro Center, Syracuse, July through October 2011 (with Amy Bartell and KayCie Simmons)
1st Rochester-Finger Lakes Exhibition. Memorial Art Gallery, Rochester, NY, July 26-October 4, 2009 (Group)
Current Research/Research Interests:
SUNY Research Foundation Arts and Humanities Project: Creatively Exploring Self, Place and Collective Identity.
At the Art Studio - A Workshop Series for Children and Young Adults.
Professional Affiliates:
Council of Art Department Chairpersons, President

Additional Info:
A free-lance graphic designer and illustrator, Professor Clabough's graphic design work and scenic art projects were seen yearly at the Michigan Womyn's Music Festival through 2015.
A painter, photographer, and mixed media artist, she exhibits work regionally and nationally in juried, group and solo shows.