Swimming
Campus Recreation offers a variety of recreational and instructional aquatic programs hosted at the Lee Hall Pool. Find out more about swim lessons, pool hours, and other exciting aquatic activities by clicking the links below. 
LEE HALL POOL HOURS
OPEN RECREATION SWIM
Monday - Friday
4:30pm - 10:00pm
Saturday & Sunday
12:00 noon - 2:00pm
4:30pm - 10:00pm
LAP SWIM
| | |
| --- | --- |
| Monday, Wednesday, Friday | 11:30am - 1:30pm |
| Tuesday, Thursday | 12:00 noon - 2:00pm |
POOL RESERVATIONS
Weekly reservations at the pool are listed below. These are the busiest hours of operation.
For more details, see the full Lee Hall Pool Schedule.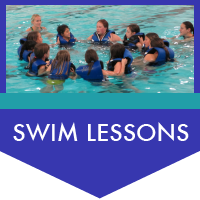 SIGN UP NOW!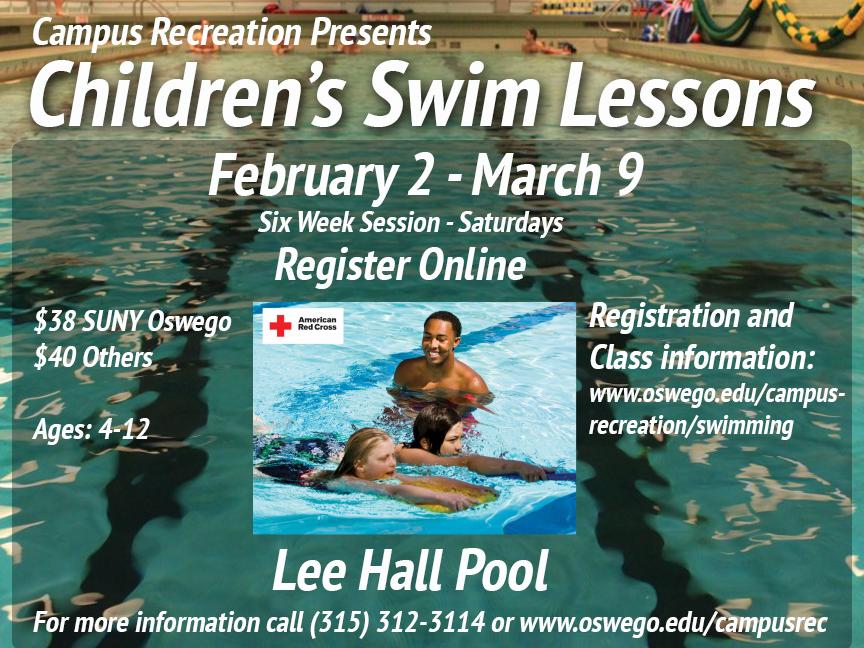 American Red Cross Children's Swimming Lesson, taught by Certified Water Safety Instructors.
Children's Swim Lessons
Registration Form  
For more informatiaon contact Erin Niland or Sandra Keenan Jeffers at 315-312-3114.
Begins February 2 and Ends March 9
Learn-to-Swim - Grades 1-6
American Red Cross Learn-to-Swim features six levels of instruction to help swimmers of all ages and abilities develop their skills.
Parent and Child Aquatics - Preschool and Kindergarten, Ages 4-5
Parents and children learn together to increase a child's comfort level in the water and build a foundation of basic skills, such as arm and leg movements and breath control. A parent or adult guardian is required to accompany each child in the water and participate in the classes. For times, please see the list above.
Children's Swim Lessons Fees

| | |
| --- | --- |
| Oswego Affiliated with Current Oswego ID | $38 |
| Alumni and all others | $40 |
Registration
Online Registration Form      For more information contact Erin Niland or Sandra Keenan Jeffers at 315-312-3114.
SUNY Oswego Campus Recreation
101 Lee Hall, Oswego, NY 13126
315.312.3114
PRIVATE SWIMMING LESSONS
All lessons are taught one on one private or one on two for semi private, and are 30 minutes in length. All lessons are open to all ages from children to adults.
Parking Note for Non-OSU Affiliated, Private and Semi Private Lesson Participants:
For participants of Campus Recreation's Private Swim Lesson program, Campus Recreation would like to inform those who are not-affiliated with OSU that a parking pass is always required to park on campus.  Unfortunately Campus Recreation cannot be held responsible for any parking tickets.  Parking Passes may be obtained from the parking office before 4 pm, at the University Police Station after 4 pm, or anytime online at https://sunyoswego.aimsparking.com/.
Registration Form        For more informatiaon contact Erin Niland or Sandra Keenan Jeffers at 315-312-3114.
Private Swimming Lessons Fees
One Lesson
Four Lessons
Affiliated 
(Current SUNY Oswego ID and parking sticker)
$15
$52
Non-Affiliated
$16
$59
Semi Private 
(2 people only)
$23
$86
Want to Learn How to Swim?
These Lessons are FREE to all SUNY Oswego students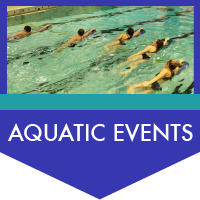 AQUATIC EVENTS THIS SEMESTER