Open (Recreational) Ice Skating
Schedule
The schedule of Open Skate sessions for the current semester can be downloaded (in PDF format) by clicking the the following link:    (This link will be updated when the Open Skating season resumes in September, 2022.)
Open Skate sessions are also listed in the SUNY Oswego Events Calendar.

PLEASE NOTE:  Effective March 4, 2022, masking is optional on the SUNY Oswego Campus for individuals who are fully vaccinated and boosted.  (For more information, please refer to SUNY Oswego's COVID policy webpage.) 
About
This is a recreational ice skating program for all skill levels.  Rental skates are available. 
MASKS ARE REQUIRED FOR EVERYONE IN ATTENDANCE.
| | |
| --- | --- |
| ADMISSION FEES: | $1 for SUNY Oswego Students (with valid SUNY Oswego ID) |
| | $1 for SUNY Oswego Faculty & Staff (with valid SUNY Oswego ID) |
| |  $3 for General Public  |
| | |
| SKATE RENTALS: | $3  |
| | |
| SKATE SHARPENING: | $7 |
Rental Skates
The SUNY Oswego Skate Shop has a large inventory of quality FIGURE and HOCKEY style rental skates which are available for use by Open Skate participants.  Rental skates are available in whole sizes only, from 10 Youth to 14 Adult.       
The Skate Shop uses a proprietary barcode scanning system to track usage and maintenance for each pair of rental skates in its inventory.  This helps insure the rental skates are insepcted and sharpened at regular intervals, and customers continue to have a good experience when using these skates.  
NOTE: Because the inside of ice skate boots can cause irritation when rubbing on bare skin, it's highly recommended that participants wear socks that are "crew" length or longer.
            
Rules & Liability
To help promote a positive and safe environment during Open Skate sessions and other group ice skating activities, Skate Shop personnel and activity coordinators diligently enforce rules of behavior for all participants.   Those who appear unwilling or unable to comply with these rules will be required to leave the ice for the remainder of the skating session.  Participants who have concerns about the behavior of other skaters should contact a Skate Shop staff member or activity coordinator without delay. 
A complete list of the rules for Open Skating at SUNY Oswego is is available by clicking the the following link:

Open Skate Guidelines (REV 10/28/2016)
Participants in ice skating activities which take place at SUNY Oswego's Deborah F. Stanley Arena and Convocation Hall acknowledge that skating is a potentially hazardous activity that presents an inherent risk of serious personal injury. 
Skaters participate at their own risk, and agree to accept responsibility for their own health & safety while at the facility. 
Participants who become injured or need assistance during an ice skating activity should seek help from an on-ice Skate Guard, Skate Shop Attendant or an activity coordinator.


Beginner Skating Aids
To assist inexperienced skaters, the Skate Shop has a limited number of beginner skating aids (a.k.a. "walkers" or "pushers"), which are available to Open Skate participants. 
          •  There is no fee for the use of a skating aid.
          •  Only one person can use a skating aid at a time.  
          •  Users of skating aids should be cautious to avoid interfering with or running into other skaters. 
          •  Skating aids should only be used by beginner skaters.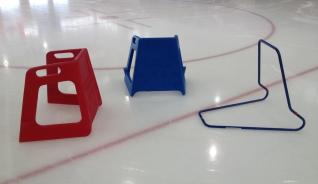 .