FAQs
We have answers! Here are some of the frequently asked questions we hear in the office and at the Welcome Desk. Take a look and feel free to contact us if you have a question about anything that you don't see on this list.
I think I lost something in the Campus Center, what do I do?
Visit the Welcome Center - across from the Box Office, next to the Crossroads Café - where our Building Manager staff would be happy to assist you. The Welcome Center houses the Lost and Found for the Campus Center - if someone has found your lost item, it would be located in our secure location behind the desk, or it would have been turned over to University Police. The Building Managers will let you know if it is in our records that your item has been found and whether or not it has been turned over to University Police. If your item has not been found, you will have the option to leave your contact information so we can let you know if we do find it after you leave.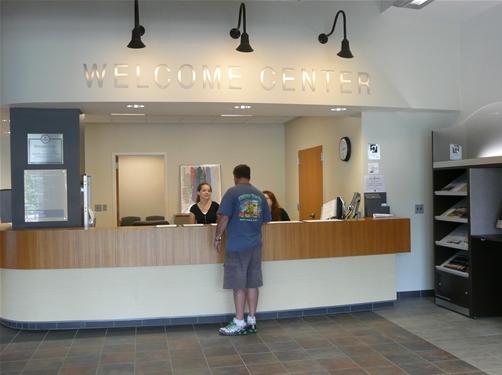 What is the best way to get in touch with my event coordinator?
The best way to get in touch with your event coordinator is to send a detailed email to eventres@oswego.edu. As our event coordinators are frequently assisting event sponsors with their events, they are oftentimes in and out of their offices throughout the day, so calling their office phones may not be as successful as sending an email would be.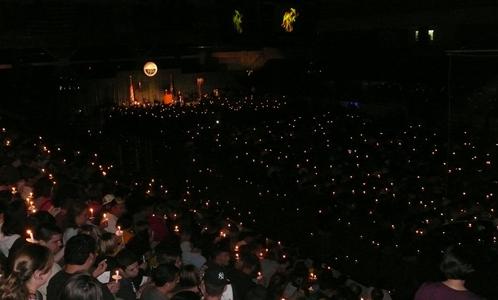 When do I need an ID?
All Student Organizations and off-campus organizations need an ID to access their space. Faculty and staff do not need an ID to gain access to their space. ALL reservations of AV equipment (laptops, data projectors, AV carts, PowerPoint remotes, etc.) will require a valid ID unless otherwise noted by your event coordinator. All persons reserving space or AV equipment should check in at the Welcome Center to drop off an ID, if necessary, and ask the Building Manager staff to unlock their space. Spaces are locked at the conclusion of each event or activity scheduled in them to ensure the integrity of the room and its contents for the next group's use.
What types of ID can I use?
Acceptable forms of identification are valid SUNY Oswego Student or Faculty/Staff ID cards or a valid Driver's License or Personal Identification Card (expired licenses will NOT be accepted). Building Manager staff cannot accept items of personal value (watches, jewelry, etc.) in place of an acceptable ID card. If you do not have a valid ID, the Building Manager may not be allowed to grant you access to your space. 
What if I don't have my own AV equipment (laptop, data projector, microphone)?
Talk with your event coordinator - let her know what your needs are for your event. The Event Management Office can provide a number of AV resources depending on the nature of your event. Your event coordinator will work with you to make sure your event is a success. Generally, late requests for AV equipment cannot be honored, so plan ahead and talk with your event coordinator today! Follow this link to the CTS site that outlines what technology comes standard in Campus Center rooms: Standard AV Equipment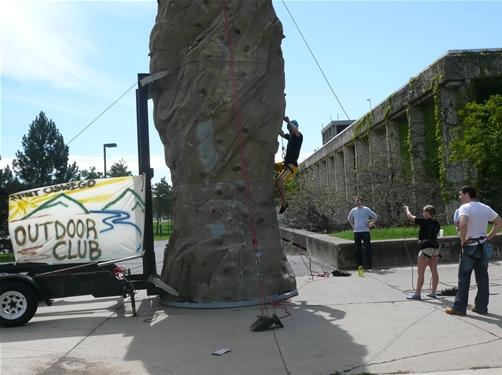 What if I don't know how to set up the AV equipment that was assigned to my event?
If you're not very technologically savvy don't worry about it! Our Building Manager staff is trained to help you set up any AV equipment that has been assigned to your event. If there is any difficulty setting up the AV equipment assigned to you, they will either call CTS or their supervisor to assist them.
Can I hook my Mac laptop up to the projectors in classrooms?
Depending on the model of your Mac laptop, we do have a Mac adapter available for you to reserve. This will allow you to use the DVI output on your laptop to connect to the podium in most classrooms through the VGA input, which will allow the image on your laptop screen to be sent through the projector and displayed on the projector screen. The models that are compatible with our adapter are: Powerbook G4 - 15" & 17" and MacBook Pro 15" & 17". For other models, you may bring your own VGA adapter to hook into the podiums. If you are interested in reserving our Mac adapter, let your event coordinator know today!
What if I need a different set-up than what is normally in the space I have been assigned?
If you need a different set-up than the standard set-up for the space you have been assigned, let your event coordinator know as soon as possible so that arrangements can be made to have it changed prior to your event. Should you require additional tables or chairs or if the set-up is not what you requested, let the Building Managers know so they can make the necessary changes, if possible.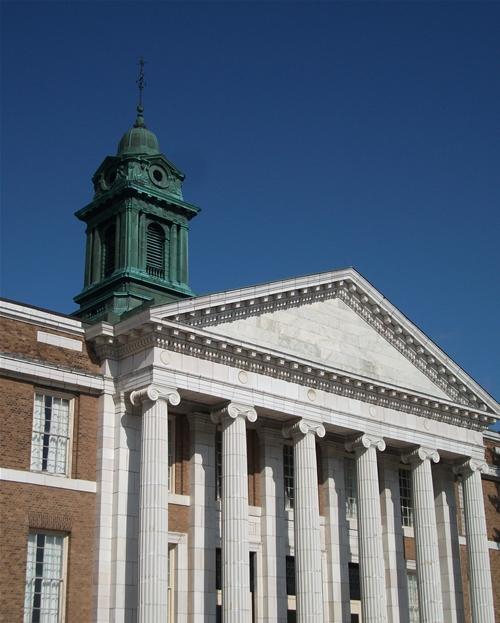 What if I want my event catered?
Should you require catering at your event, be it a brunch, dinner, desserts, or cocktails, let your event coordinator know as soon as possible so Auxiliary Services can be contacted and discussions about what you need can be started. When it comes to planning, the earlier the better - work with the Campus Catering Office directly to communicate your needs and exactly what you want served, when, and how. Here's the link to their web page so you can check out all they have to offer - Campus Catering
How do I get the ballrooms in Hewitt and Sheldon unlocked for my event?
Check in at the Welcome Desk. Let the Building Managers know what event you are associated with and they will take your ID (if necessary) and walk over with you to the appropriate ballroom. Once you arrive, they will unlock the space, turn on the lights, and check your set-up. At the conclusion of your event, stop back at the Welcome Desk or give them a call at (315) 312-6789 so they can come over to lock up the space and return your ID to you. For some events, there will be a Building Manager stationed in Hewitt or Sheldon for the entirety of the event - they are there to help make sure your event is a success, don't hesitate to ask them to for assistance at any point during your event.
How can I reserve Hewitt 232/233?
If you would like to reserve Hewitt 232/233 you may contact Auxiliary Services at 312-2106 to discuss the availability of the space.
Sheldon Hall is a nationally registered historic building? What does that mean for my event?
Yes, the cornerstone for Sheldon Hall was laid in 1911, making it over 100 years old. Being nationally registered as a historic building means that the entire building must preserved in its original state. What this means for your event is that you must be respectful of the ballroom and its historic nature. This means hanging, taping or tacking anything to the walls, windows or doors is strictly prohibited. All decorations or projects of any sort must be free standing. The Building Managers would be happy to provide you with additional tables to use to display your decorations or projects. If you have any questions about what is and is not allowed in Sheldon Hall, please don't hesitate to ask your event coordinator or the Building Manager staff.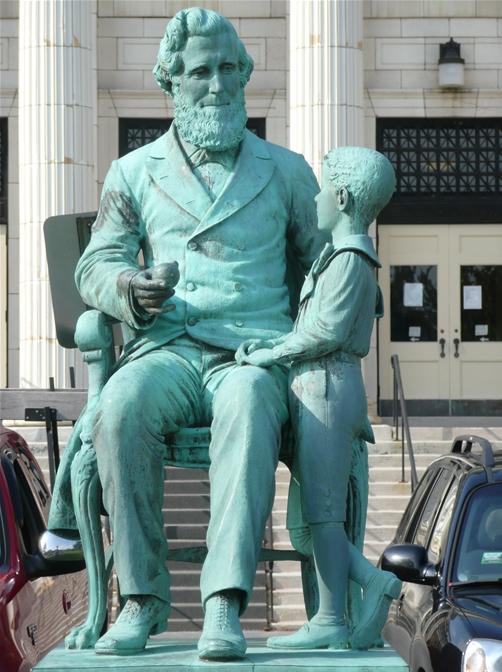 Where can I load/unload equipment for Hewitt Ballroom?
You may load and unload any equipment needed in the ballroom (speakers, screens, props, etc.) at the loading dock located on the East-facing side of the building - directly across from Hart Hall. There you will find a ramp and large doors to accommodate most equipment. Loading and unloading equipment through the North-facing, glass doors that lead directly into the ballroom is prohibited. This blocks emergency exits - you may be ticketed by University Police should you attempt to load/unload through these doors. If you have any questions about which doors are acceptable to load/unload through, don't hesitate to ask the Building Manager assigned to your event or call (315) 312-6789.
What if I want to reserve one of the classrooms in the Compass?
If you would like to reserve a classroom in the Compass, rooms 141 or 143, you can speak directly with the professional staff who work in the Compass (312-3142). The Event Management Office does not generally schedule events for those spaces. Should you need access to those spaces after normal business hours, you must make arrangement with professional staff who work in the Compass as the Building Managers are not authorized to give event sponsors access to those locations.
How do I reserve space to have a bonfire at the lake?
You may reserve space to have a bonfire at the lake the same way you would reserve space for any other student organization event. Use the following form for bonfires: Event Space Request Form. Make sure to indicate the Event Type as "bonfire" and the Requested Building as "lakeside." Take a moment to also review campus policies on bonfires to ensure your event is safe and successful: Bonfire Policy.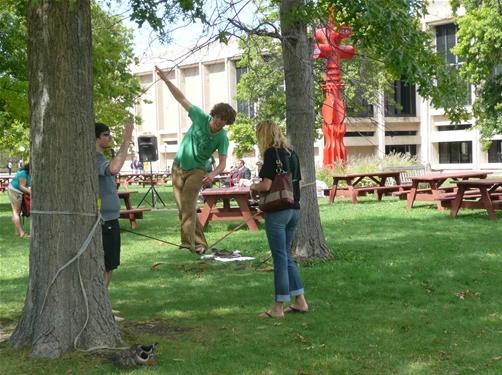 Where is the Campus Center auditorium?
The auditorium is located in the Campus Center's outer concourse, or main hallway. It is down the hall from the Point and the Welcome Desk heading towards the Poucher end of the building, in between the WTOP and the WNYO offices. If you are having trouble, stop at the Welcome Desk where the Building Managers would be happy to walk you down.
I'm not a student, where do I park?
Check out the Parking Office website for parking maps and instructions for parking on campus if you are not a student. Generally, you would need a Visitor Parking Permit, which costs $1 per day. However, oftentimes there are different guidelines for major events such as hockey games or concerts. The following website will have all the information you need: Parking Information  
Which rooms in the Campus Center are air conditioned?
The "arena" and "Swetman" sections of the Campus Center are air conditioned. The "Poucher" wing of the building and anything beyond the Atrium is not. On the first floor, this means that any room between the Compass the Arena are air conditioned. On the second floor, rooms 201 through 211 are air conditioned.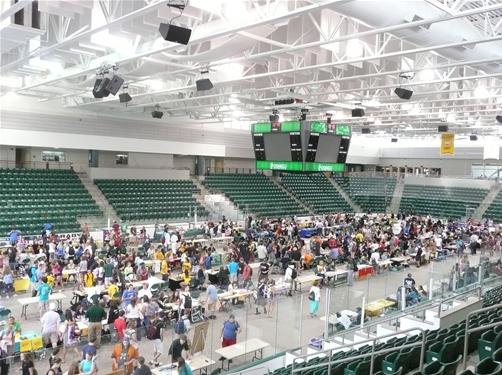 When does the fireplace in the Hearth Lounge get turned on?
From October through March the Hearth Lounge fireplace turns on automatically when the lounge reaches a certain temperature. It generally turns off automatically as well, or is turned off by the Building Managers prior to their leaving for the night. The fireplace can also be turned on by the Building Manager staff for certain events such as hockey games and conferences occurring in the winter months. SUNY Oswego students, faculty and staff can also request to have the fireplace turned on if they are relaxing in the Hearth Lounge the same way you would request to have the blinds raised or lowered - simply ask the Building Manager staff and they would be happy to assist you as soon as possible.
Where can I get the equipment for the pool/foosball tables near the Crossroads?
The equipment for pool/foosball tables is located behind the Welcome Desk. You must have a valid SUNY Oswego Student or Faculty/Staff ID in order to request the equipment. Simply ask the Building Manager for the equipment, he/she would be happy to get it for you in return for your ID. When you are finished playing, return the equipment to the desk and to retrieve your ID.
How can I get a job with the Event Management Office?
Check the Digital Signage or stop by the Welcome Desk or the Campus Life Main Office to find out when we're hiring. Building Manager positions are highly sought after, so be sure to keep a look out for signage indicating when we're hiring. You can pick up an application for Building Manager at the Welcome Desk or in the Campus Life Main Office (135 Campus Center). Turn your completed application back in to the same locations. You will be contacted if you are selected for an interview. To find out more about the Building Manager position and download an application, click on the following link - Employment.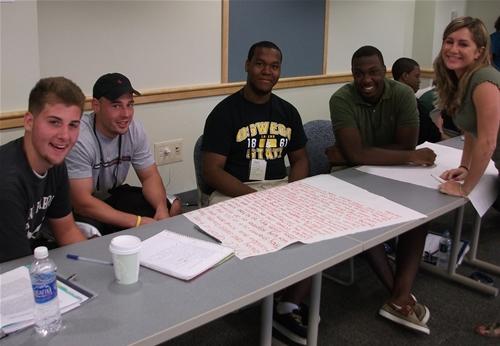 When is the Campus Center open?
During the academic year, the Campus Center is open from 6:30am to 1:30am seven days a week. During breaks, the building has limited hours for weekdays and is closed on the weekends except for special events.
Is there a payphone on campus?
Unfortunately, all payphones on campus have been removed. The phones you see in the classrooms, offices and the Welcome Desk only make calls to other on-campus phones. In order to make calls off-campus from an on-campus phone, you need a phone code, which is issued by the CTS Telecommunications Office and has monthly charges associated with it. Building Manager staff are not authorized to allow patrons of the building to borrow their personal cell phones to make off-campus calls.
135 CAMPUS CENTER * 315-312-2301