Society for Human Resource Management
The society is directed toward all students interested in actively learning about the field of Human Resources. Membership is open to all majors.  Society of Human Resource Management (SHRM) is affiliated with the national organization in Alexandria, Virginia and the parent chapter is located in Syracuse, New York. 
Activities include professional speakers from the parent chapter and local businesses. SHRM also holds seminars and workshops on resumes, interviews and internships.  One of the main objectives of SHRM is to complete the annual Merit Award. In doing so, the student chapter gets a chance at national recognition and validation of their efforts.  Working closely with CNY SHRM and Career Services, the student chapter is committed to student professional development.

Among the most exciting activity is participation in the Northeast SHRM Case Competition. Teams of six compete in case analysis and present their ideas to professional members of SHRM. In the past years, SHRM has represented Oswego proudly and competed against schools including Cornell and Penn State.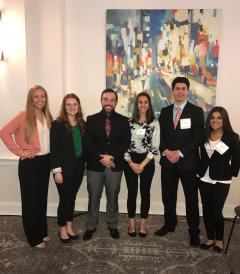 The Oswego student chapter is proud to have achieved the Superior Merit award for the 2014-2015 school year.  This accomplishment reflects true enthusiasm for learning about the field of human resources.

2018-2019 SHRM Chapter Government Council:
President - Joelle Tomasello (jtomasel@oswego.edu)
Co-President - Mike Sheehan (msheeha2@oswego.edu)
Vice President - Kayla Moccio (kmoccio@oswego.edu)
Secretary - Ezequiel De La Cruz (edelacru@oswego.edu)
Treasurer - Devin Higgins (dhiggin2@oswego.edu)
Marketing Coordinator -  Deondra Smith (dsmith37@oswego.edu)
Faculty Advisor - Prof. Carrie Fellows  (carrie.fellows@oswego.edu)
For more information about the national SHRM organization, please visit www.shrm.org.  To become a student SHRM member, please complete our membership application form.