Dr. Robert J. Corona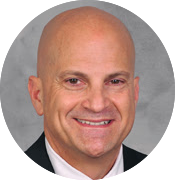 Dr. Robert J. Corona is the John B Bernard Henry Professor of Pathology and Chairman of Pathology and Laboratory Medicine at Upstate Medical University. He is Clinical Chief of Pathology and Laboratory Medicine at University Hospital of Upstate Medical University, Residency Program Director and Director of Neuropathology. Dr. Corona also is Vice President of Innovation and Business Development and Director of the CNY Biotechnology Accelerator Center.
He is President of Upstate Pathologists Laboratories, LLC. While at Upstate, he founded CareNet, a medical informatics and telemedicine program that won the Smithsonian Award for Innovation in Medicine. Dr. Corona is board certified by the American Board of Pathology in Anatomic Pathology, Neuropathology and Clinical Informatics. He remains an Emeritus Member of the New York State Board for Medicine.