Faculty profile
Nicholas M Sard
Assistant Professor
---
Contact
333 Shineman Center
315.312.2032
nicholas.sard@oswego.edu
Office hours
Wednesday 1:00 - 2:00pm
Thursday 1:30 - 2:30pm
Or by appointment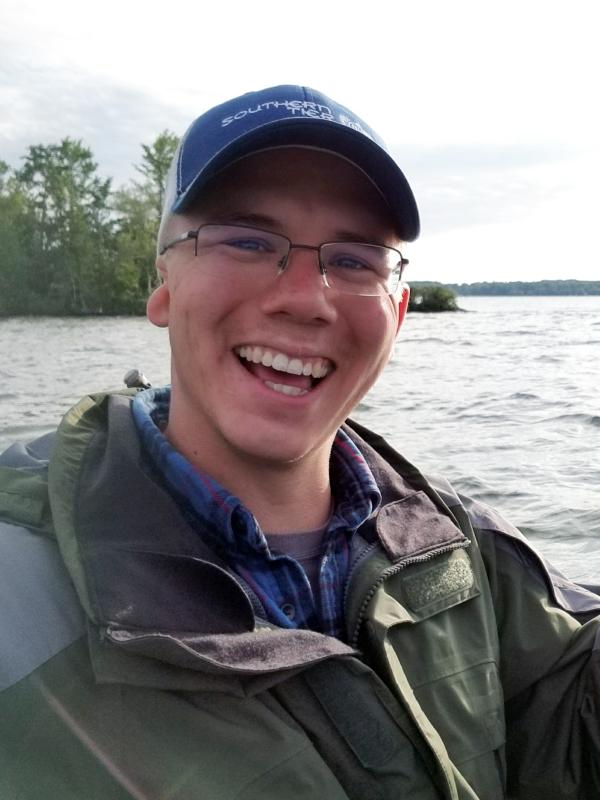 Research
I am an evolutionary ecologist that is broadly interested in the evolution of life history traits, demography, and conservation. My lab works with state and federal agencies to apply genetics-based approaches when answering questions relevant to species of conservation concern. My career has focused on studying aquatic species, many of which reside in the Great Lakes basin.  
Specialty areas:
molecular ecology

conservation biology

bioinformatics
Publications
Scribner, K.T., G. Uhrig, J. Kanefsky, N.M. Sard, M. Holtgren, and C. Jerome. In revision. Decadal estimates of adult lake sturgeon abundance and diversity based on pedigree analyses of multi-locus genotypes. North American Journal of Fisheries Management.
Sard, N.M., J.D. Robinson., S. Herbst, and K.T. Scribner. Submitted. Coalescent analysis evaluating alternative hypotheses of Round Goby colonization of inland lakes using genomics data. Evolutionary Applications.
Bartron, M.L., N.M. Sard, and K.T. Scribner. 2017. Evaluation of inbreeding effective size and coancestry among commonly used hatchery mating strategies. Transactions of the American Fisheries Society. 147:185-194.
Sard, N.M., D.P., Jacobson, and M.A., Banks. 2016. Grandparentage assignments identify unexpected adfluvial life history tactic contributing offspring to a reintroduced population. Ecology and Evolution. 6: 6773-6783.
Sard, N.M., M.A., Johnson, D.P., Jacobson, M.J., Hogansen, K.G., O'Malley and M.A., Banks. 2016. Genetic monitoring guides adaptive management of a migratory fish reintroduction. Animal Conservation. 19: 570-577.
Evans, M.L., S.J., Shry, D.P., Jacobson, N.M. Sard, and K.G., O'Malley. 2015.  Functional gene diversity and migration timing in reintroduced Chinook salmon. Conservation Genetics, 16(6): 1455-1464.
Sard, N.M
., K.G, O'Malley, D.P, Jacobson, M.J., Hogansen, M.A., Johnson, and M.A., Banks. 2015. Factors influencing spawner success in a spring Chinook salmon (Oncorhynchus tshawytscha) reintroduction program. Canadian 
Education
Ph.D. in Fisheries Science, Oregon State University, 2016
M.S. in Biology, State University of New York at Fredonia, 2011
B.S. in Biology, State University of New York at Fredonia, 2009