Return to Traditional Services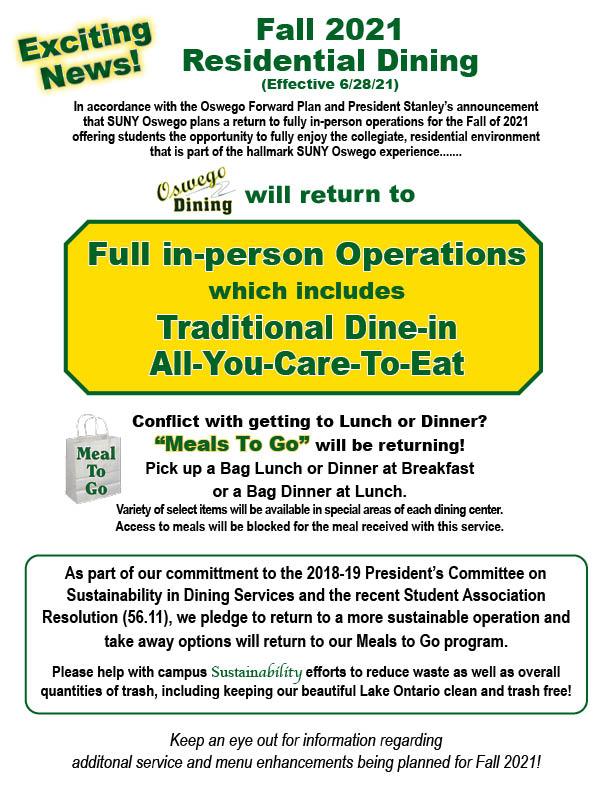 Fall 2021 Residential Dining
(Effective 6/28/21)
In accordance with the Oswego Forward Plan and President Stanley's announcement
that SUNY Oswego plans a return to fully in-person operations for the Fall of 2021
offering students the opportunity to fully enjoy the collegiate, residential environment
that is part of the hallmark SUNY Oswego experience.......
Oswego Dining will return to
Full in-person Operations
which includes
Traditional Dine-in
All-You-Care-To-Eat
Meal to Go
Conflict with getting to Lunch or Dinner?
"Meals To Go" will be returning!
Pick up a Bag Lunch or Dinner at Breakfast
or a Bag Dinner at Lunch.
Variety of select items will be available in special areas of each dining center.
Access to meals will be blocked for the meal received with this service.
As part of our committment to the 2018-19 President's Committee on
Sustainability in Dining Services and the recent Student Association
Resolution (56.11), we pledge to return to a more sustainable operation and take away options will return to our Meals to Go program.
Please help with campus Sustainability efforts to reduce waste as well as overall
quantities of trash, including keeping our beautiful Lake Ontario clean and trash free!
Keep an eye out for information regarding
additonal service and menu enhancements being planned for Fall 2021!