Faculty profile
Paul Tomascak
Professor, Geology and Geochemistry
Associate Dean of Liberal Arts and Sciences
---
Contact
601 Culkin
315.312-2285
tomascak@oswego.edu
Office hours
1:00 -2:00 pm Tuesdays in 372 Shineman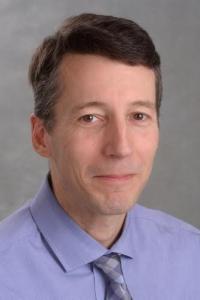 Research
Origins of granitic rocks and pegmatites; geochemical proxy studies of closed-basin lake sediments; lithium isotope geochemistry.

Specialty areas:

elemental

isotopic geochemistry
Publications
Yu J, Elderfield, H, Jin Z, Tomascak PB, Rohling EJ (2014) Controls on Sr/Ca in benthic foraminifera and implications for seawater Sr/Ca during the late Pleistocene. Quaternary Sci. Rev. 98, 1-6.

Meredith KT, Moriguti T, Tomascak PB, Hollins S, and Nakamura E (2013) The lithium, boron and strontium isotopic systematics of groundwaters from an arid zone aquifer system: implications for recharge and weathering processes. Geochim. Cosmochim. Acta 112, 20-31.

Zimmerman SH, Hemming SR, Hemming NG, Tomascak PB, and Pearl C (2011) High-resolution chemostratigraphic record of late Pleistocene lake-level variability, Mono Lake, California. Geol. Soc. Amer. Bull. 123, 2320-2334.

Teng FZ, Rudnick RL, McDonough WF, Gao S, Tomascak PB, and Liu Y (2008) Lithium isotopic composition and concentration of the deep continental crust. Chem. Geol. 255, 47-59.

Bosch W, Hester J, MacEntee V, MacKenzie J, Morey TM, Nichols J, Pacitti P, Shaffer B, Tomascak PB, Weber S, and Young R (2008) Beyond lip-service: A operational definition of "learning-centered college." Innovative Higher Educ. 33, 83-98.

Tomascak PB, Langmuir CH, LeRoux P, and Shirey SB (2008) Lithium isotopes in global mid-ocean ridge basalts. Geochim. Cosmochim. Acta 72, 1626-1637.

Lev SM, Filer JK, Tomascak P (2008) Orogenesis vs. diagenesis: Can we use organic-rich shales to interpret the tectonic evolution of a depositional basin? Earth Sci. Rev. 86, 1-14.
Education
Ph.D., University of Maryland, 1995 
MS, University of Manitoba, 1991
BS, NM Tech, 1988