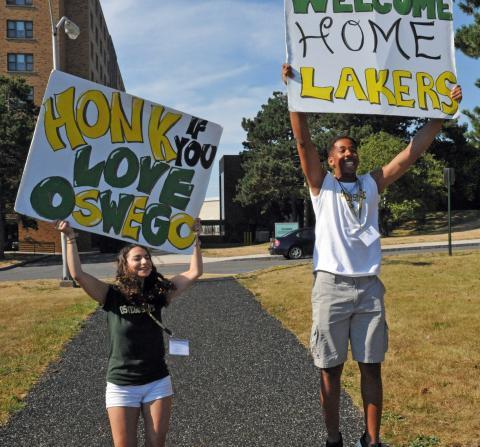 • In fall 2016, SUNY Oswego welcomed to campus its most culturally diverse student body in the college's history. A record-setting 33.8 percent of the first-year class — up 3.2 percent from the previous year's first-year class and an 80 percent increase from 2010 — is culturally diverse, which brings the total undergraduate and graduate population of students who self-identify as Hispanic, Asian, African-American, Native American, Pacific Islander or in more than one category to 25.8 percent of the student body. 
• "With Passion & Purpose: The Campaign for SUNY Oswego" raised a total of $43,483,781, surpassing its most ambitious goal in college history by $3.48 million. This is the largest completed campaign among all SUNY comprehensive colleges, and the total is nearly double Oswego's last campaign, which raised $23.8 million. The campaign engaged and inspired the Oswego family, including more than 16,000 donors representing alumni, employees, students, parents and friends during the five-year (2011 to 2016) fundraising period.
• SUNY Oswego rose to #44 in U.S. News and World Report's 2017 Top Regional Universities in the North, #12 among public institutions. Oswego also earned recognition as U.S. News' top-ranked online MBA program in New York state, and among the publication's regional Best Colleges for Veterans, and as a Best for Vets College by Military Times, a Military Friendly School by Military Advanced Education and a Military Friendly School by G.I. Jobs. Oswego also ranks in The Princeton Review's Best in the Northeast, Best Business Schools and Green Colleges.
• Oswego tied for 16th for participation in mid-length study-abroad programs among students at master's colleges and universities, according to the authoritative Open Doors annual report released by Institute for International Education and the U.S. Department of State's Bureau of Educational and Cultural Affairs in November 2016. The IIE also reported that 20 percent of graduating students at Oswego participate in education abroad, making Oswego one of the study abroad leaders in the SUNY system. In 2015, the IIE awarded SUNY Oswego an honorable mention in the Andrew Heiskell Awards for International Education program for the "I, Too, Am Study Abroad" campaign, which raises awareness among Oswego students who have been underrepresented in study abroad of the benefits of international education and the availability of scholarships to help pay for it.
• A rejuvenated Tyler Hall reopened for fall 2016 after a two-year, $22.2 million first phase of renovations, with beautiful and high-tech spaces that provide student opportunities as well as arts and entertainment opportunities for the community. A week of activities from October into November 2016 showcased performing talent and spaces while welcoming alumni, community visitors and campus members to this new gem of an arts building. Future phases of the $18 million remainder of the project are already under way, expected to be completed by 2018.
• SUNY Oswego retained the prestigious Carnegie Community Engagement Classification on the January 2015 list of just 361 colleges nationwide, a designation happening in five-year cycles. The tribute from the Carnegie Foundation for the Advancement of Teaching recognizes colleges that deeply intertwine community engagement in their leadership, curriculum, outreach programs, strategic planning and community partnerships. Oswego has repeatedly appeared on the U.S. President's Higher Education Community Service Honor Roll "with Distinction," recognizing the college's commitment to volunteering, service learning and civic engagement.
• Also in December 2014, Kiplinger's Personal Finance magazine named Oswego to its list of 100 best values in public colleges for 2015. The ranking cites four-year schools that combine outstanding academics with affordable cost. Earlier in 2014, USA Today and the Princeton Review named SUNY Oswego to their list of 75  "best value" colleges in the nation. 
• In August 2014, Washington Monthly magazine ranked SUNY Oswego in the top 50 public master's-level institutions nationwide for its "contribution to the public good." Oswego ranks No. 95 among all 684 master's-level colleges and universities, public and private, that the magazine ranked.
• The college's Campus Center was officially named the Marano Campus Center in June 2014. The college announced in January 2014 receiving its largest gift to date: $7.5 million from the estate of local resident Lorraine E. Marano. The gift establishes the Nunzio "Nick" C. and Lorraine E. Marano Endowment, which will be used primarily to fund scholarships for students with financial need, especially first-generation college students. 
• SUNY Oswego opened its new Richard S. Shineman Center for Sciences, Engineering and Innovation in fall 2013. A $118 million construction project renovated and expanded a 1960s science facility into a 262,000-square-foot state-of-the-art complex supporting future scientists, engineers and teachers. A $5 million gift from Dr. Barbara Palmer Shineman, professor emerita of education, and the Richard S. Shineman Foundation named the building. The Rice Creek Field Station facility was also part of the science construction project and newly opened in fall 2013. Landmark celebrations commemorating the new science facilities took place the week of Sept. 30, 2013.